Are you looking for the best toys for deaf dogs?
Well, we've got precisely what you are searching for! Considering the large variety of toys that are available in the market, it can be a daunting experience to find the best toy for your dog.
Therefore, we have created a buying guide for you to make the best decision for your beloved pet. By reviewing the best toys for deaf dogs and their pros and cons, you can make a well-informed buying decision.
But before we get into that, let's discuss whether deaf dogs require unique toys, the different types of toys for deaf dogs, and what you should keep in mind before choosing a product.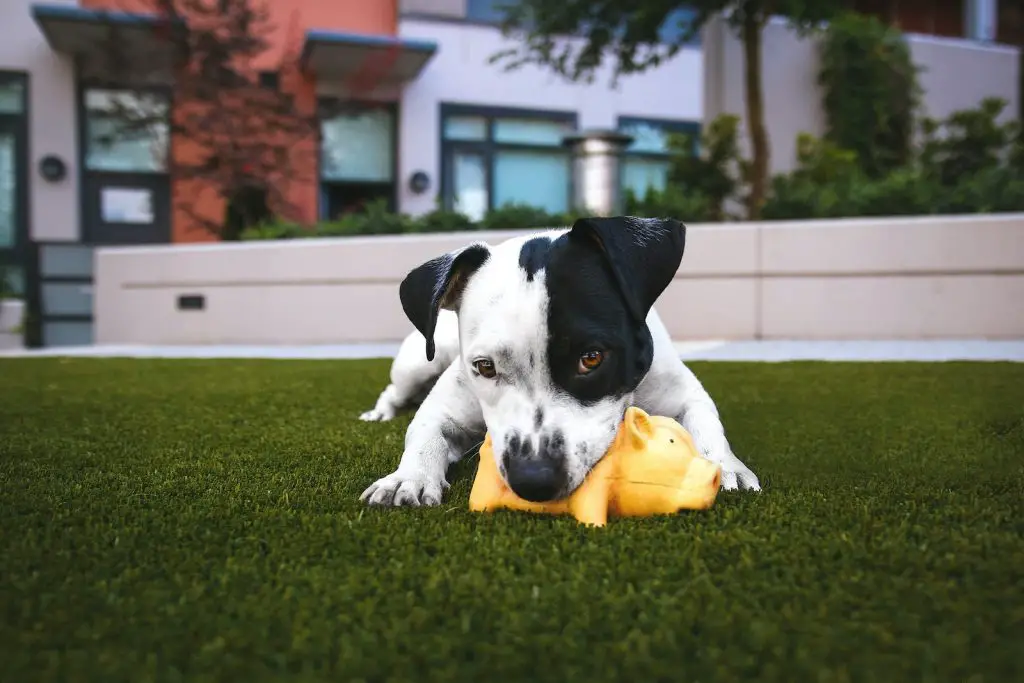 Nerf Dog 7 in. LED Bash Barbell
Sale
Nerf Dog Rubber Bash Barbell Dog Toy with Interactive LED, Lightweight, Durable and Water Resistant, 7 Inches, for Medium/Large Breeds, Single Unit, Red
NERF TOUGH Nerf quality materials make our Bash Barbell toy perfect for fetch and for teaching your dog new tricks
HEALTHY TEETH The unique barbell design and ridged texture makes it easy for your dog to massage gums and help keep teeth clean and tartar free
MADE TO LAST Lightweight, durable, and weather & water resistant
FOR MEDIUM AND LARGE BREEDS At 7 inches long, this Bash Barbell is ideal for medium and large breeds
SAFETY FIRST Designed with you dog's safety in mind, each of our dog toys are tested to ensure endless hours of family fun
The LED Bash Barbell by Nerf Dog is an ultra-cool toy for medium-sized and large dog breeds. Deaf dogs tend to get aggressive at times, damaging the toys they get instantly.
However, this toy is quite durable as compared to other toys. The Nerf Dog Bash Barbell features two light-up balls inside a faux bone-shaped toy, which is exceptionally appealing for your deaf dog.
This toy can be used for fetching. It also encourages your deaf pup to pull out the LED balls and play with them, engaging them mentally and physically. The Nerf Dog LED Bash Barbell is a pretty lightweight toy and is available in two colors – red and blue.
Chuckit! Kick Fetch Ball Dog Toy
Chuckit! Kick Fetch Max Glow Ball, Large (8 Inch) Glow in the Dark Dog Toy
FUN FOR PETS AND PET PARENTS: This 7.5 inch Glow in the Dark ball satisfies your dog's natural chasing instincts. Pet parents can kick, throw or punt this fetch toy, allowing for hours of interactive fun for your pet. Recharge the glow by simply exposing to bright light
FLOATS IN WATER: Canvas, rubber and foam construction of this Chuckit fetch toy allows engaging playtime on land or water while being gentle on your pet's teeth and gums
EASY PICK-UP: Featuring deep ridges, dogs can easily grab the Chuckit durable dog toy for quick retrieval. And pet parents can just kick it, without having to worry about pet slobber
HIGH-VISIBILITY COLORS: High contrasting glow in the dark colors allow your pet to easily spot this bright dog ball in tall grass or large open fields during outdoor play. No batteries required
DURABLE DESIGN: Hold up to rough and tumble dogs, the Chuckit Kick Fetch features a tough, durable outer layer of canvas and rubber with a soft foam core
The Chuckit Max Glow Kick Fetch is an excellent toy for deaf dogs. It is a very interactive and fun toy and engages both the pup and the owner.
Designed for an exciting bouncy effect, it satisfies your pups' chasing instincts, stimulating it physically. The large size of the Chuckit Max glow makes it easy for your dog to grab and retrieve it with its teeth.
Moreover, it has a nice curved groove that also gives your pup a secure grip to carry it around comfortably. Made from canvas, rubber, and foam, this toy can also be used in the water.
Playology All-Natural Scented Squeaky Chew Ball 
Playology Dog Balls for Medium and Large Dog Breeds (10lbs & Up) – Dog Ball for Aggressive Chewers – Squeaky Toy, Engaging All-Natural Beef Scented – Non-Toxic Rubber Dog Ball Toys
MEET THE SQUEAKY CHEW BALL BY PLAYOLOGY: Featuring a fun squeaky sound and enticing all-natural Beef scent, thanks to our Encapsiscent Technology, this is the toy your pup's been waiting for. The ball is built to float, so it's great for the backyard or park, and also for water play in a pool, pond, lake or beach. Our Medium/Large size Squeaky Dog Ball Toy is ideal for dogs 10 lbs and up.
ENCAPSISCENT TECHNOLOGY: A dog's sense of smell is 10,000x more powerful than a human's. Dog's experience the world through scent, so we make toys with the all-natural scents they love. Every Playology toy is embedded with all-natural scent at the microscpic level. The fresh bursts of scent that are released with each chew will keep your pup engaged 7x longer than unscented toys.
EASY TO CLEAN: Dirt and sand trapped on the surface of a toy can grind down your pup's teeth, so we make all Playology toys easy to clean. Plus, our Encapsiscent Technology means you won't wash away the all-natural scent they love. Just rinse our Dog Toy Balls with warm water to clean and pat dry.
HUMAN TESTED, DOG APPROVED: All Playology toys are tested to meet ASTM guidelines for safety for children's toys and the CPSIA standards for lead, phthalates and other toxins deemed hazardous. Plus, our scents are all-natural. We take derivatives of the actual food and encapsulate them throughout the entire toy. All the joy of the scent, with no chemicals or unwanted calories.
FOUNDED BY DOG LOVERS: When we developed our line, we looked at the science behind what made dogs enjoy their toys. We also asked how human children were protected and used those same safety standards. Everyone at Playology remains committed to designing and developing the best, safest and healthiest toys we possibly can.
Like normal dogs, even deaf pups love squeaky chew toys. So, if you are looking for a great squeaky chew toy for your deaf dog, the Playology All-Natural Scented Squeaky Chew Ball is a great option!
Shaped like a tennis ball, this toy is great for aggressive chewers. Moreover, it has a protein-scent, which stimulates your pup's sense of smell. Chewing this toy is an excellent exercise for your dog, and it also enhances its inherent desire for food.
Despite continuous chewing, the Playology All-Natural Scent Squeaky Chew Ball remains intact, proving its exceptional quality. Moreover, this excellent chew toy also squeaks and bounces extremely well.
Hyper Pet Doggie Tail Interactive Plush Dog Toys
Sale
Hyper Pet Doggie Tail Interactive Plush (Wiggles, Vibrates, and Barks – Dog Toys for Boredom and Stimulating Play)
PLUSH SQUEAKY DOG TOY THAT WIGGLES, VIBRATES, & BARKS – Entice your dog to run, chase, play, and exercise. This interactive dog toy encourages fun stimulation for dogs of all ages. Fun dog toys for small dogs, dog toys for medium dogs, and large dog toys.
REDUCE ANXIETY AND BOREDOM – With funny sounds and erratic movements, these funny dog toys & plush dog toy will capture your puppy or adult dog's interest and keep them engaged with its interactive dog toy movements. The wobble and wiggle will keep them busy.
TIPS TO ACTIVATE: Pull out tab and give hard shake. If toy does not turn on, feel around for ON/OFF switch located underneath cover, hold button for 2 seconds, and give hard shake. The ball will activate, vibrating and making noise for approximately 10 seconds. Once this stops, the ball will reactive when rolled, thown, or played with. When playtime is over, simply press button down to turn dog ball off and preserve battery life. PLEASE SEE VIDEOS FOR HELP.
BATTERY OPERATED PROLONGED PLAY – To change batteries, remove the plastic ball from plush toy cover. Use tab to open the giggle dog toy ball. Remove the battery compartment and insert 3 AAA batteries. This interactive dog toy has an automatic stop feature after a period without use to extend battery life. (Batteries are included with the Hyper Pet Doggie Tail)
NEW COVERS AVAILABLE – Additional Hyper Doggie Tail covers are available for your pet. Hyper Pet is a Cosmic Pet Brand. Color of Doggie Tail Plush May Vary. Please always supervise your pet while in use.
A highly interactive toy for your pet that entails a lot of wiggling vibrating and barking is the Hyper Pet Doggie Tail Interactive Plush Toy.
This toy is both mentally and physically stimulating and demanding for your pet as it encourages your deaf pup to run, play, and exercise.
Apart from its funny sounds, the Hyper Pet Doggie Tail Interactive Plush Toy has a tail that crinkles in addition to some super-cool erratic movements. This product comes with additional doggie tail covers to keep things interesting for your deaf pup.
Pet Qwerks Blinky Babble Ball 
Sale
Pet Qwerks Blinky Babble Ball – Flashing Interactive Chew Dog Toy – Small
Interactive Dog Toy: The Blinky Babble Ball is motion activated, flashes and makes sounds; A great self amusement toy for all dogs and ideal for pets that are blind or have poor vision; Small size for dogs under 12 pounds
Keep Them Busy: As your pet breathes on it or walks past it, the bright light starts blinking and playful banter ensues, demanding playtime by enticing your dog; Each ball makes 18 different sounds
Healthy Chew Outlet: The Babble Ball helps dogs satisfy their natural instinct to chew and helps reduce anxiety and prevent boredom by encouraging them to actively play; when your dog is done playing, it will turn itself off
Strong And Durable: Made with high impact ABS construction, the Babble Ball can stand up to aggressive chewers, from your tiny teacup to your goliath Great Dane; A long lasting toy to keep your dog active
Just For Pets: Petmate makes a variety of pet products for dogs, cats, birds, and other furry friends; Check out our brands such as Aspen Pet, Arm & Hammer, Booda, Chuckit, and more
The Pet Qwerks Blinky Babble Ball is a highly interactive toy. With motion-activated flashing lights, this great toy makes at least 18 different sounds. This babble ball toy is tailored to suit the needs of dogs with special needs.
Moreover, it engages your dog in physical activities, ensuring that it remains active. The Pet Qwerks Blinky Babble Ball is a durable toy, has tough construction and stimulates the sight and sound sensories of your pup.
Most dogs love the sounds that this interactive toy makes, and paired up with the lighting aspect; it serves as a great toy to encourage sensory stimulation.
Its hard construction material makes it durable but can be too hard for dogs who try to bite it. The hard plastic can also cause your dog to lose its teeth if it catches the toy aggressively. 
Do Deaf Dogs Need Special Toys?
Deaf dogs don't necessarily need special toys. Yes, they prefer toys that are mentally and visually stimulating, but they also like playing with squeaky toys. Moreover, they also love playing with chew toys, tugs, and even lasers.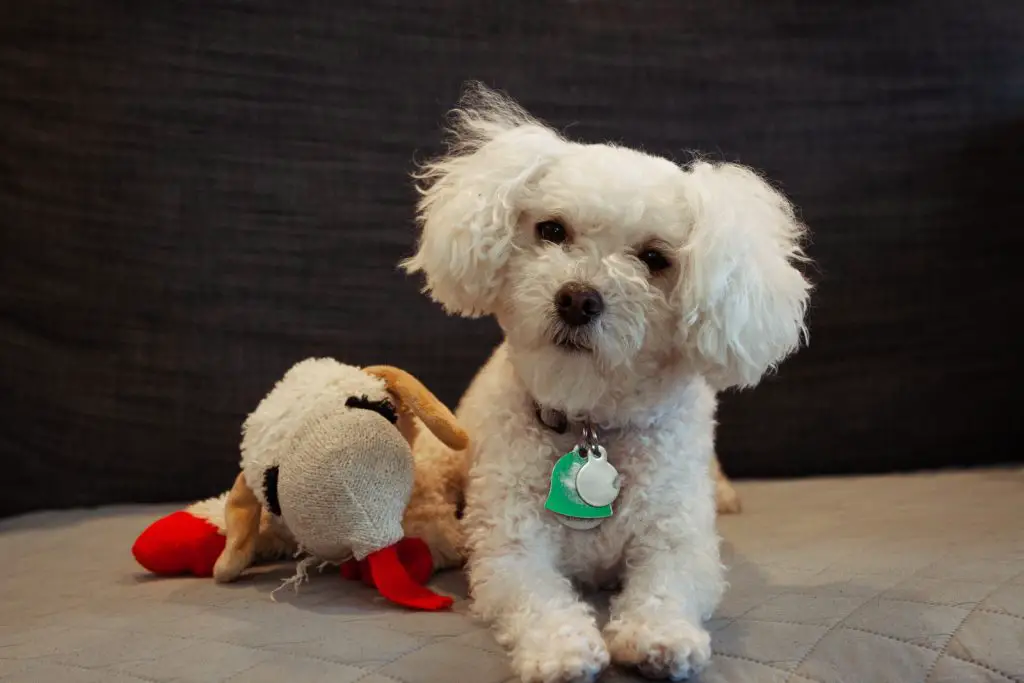 Why Deaf Dogs Need to Exercise and Play with Toys?
Deaf dogs need to be treated just like other dogs. This includes engaging them in physical activity and encouraging them to play with toys. Toys help with mental stimulation and keep your pets engaged for extended periods. Moreover, since dogs are pack animals, they aren't designed to spend too much time alone.
Since you can't spend time with them all day long, playing with toys keeps them busy while you are away. Furthermore, deaf dogs, just like any other dogs, love playing with toys as it's amusing! They also view exercising as a rewarding experience as it lowers their stress levels.
What Are Some Good Toys for Deaf Dogs?
Deaf dogs prefer more or less the same toys as normal dogs do. Despite their hearing impairment, they do appreciate squeaky toys. Apart from this, they are fond of chewy toys, balls, uniquely-textured toys, toys that blink or light up, vibrating toys, and toys that move on their own.
Watch this deaf dog play with a squeaky toy.
What Are the Benefits of Giving Toys to Deaf Dogs?
There are various benefits of giving toys to your dogs. Here are some of them:
Playing with toys helps with mental stimulation, which will tire your dog out more than a 30-minute walk. This will lower their energy and keep them out of trouble!
Dogs are pack animals; hence, they aren't designed to spend long periods by themselves. It can get pretty challenging to spend time with your pet due to other priorities.
Therefore, engaging them with toys can be a great way to keep them occupied. Toys will keep your deaf dog entertained for longer, ensuring that they don't get too worried about your absence.
Toys are the best thing for dogs in general. Dogs just love toys! Not only do they enjoy playing with them, but they are also excited about receiving new ones.
Apart from making life more fun for deaf pups, toys help them develop new skills. Enrichment toys improve your dog's ability to learn and enhance their natural behavior, like exploring and foraging.
Deaf dogs tend to be more stressed than other pups, mainly due to their impaired hearing. Playing with toys helps your dogs relax and calm down, making them happy.
Moreover, dogs view playing with toys as a highly rewarding experience. By gaining more control of their environment, deaf pups keep their stress levels at bay while playing.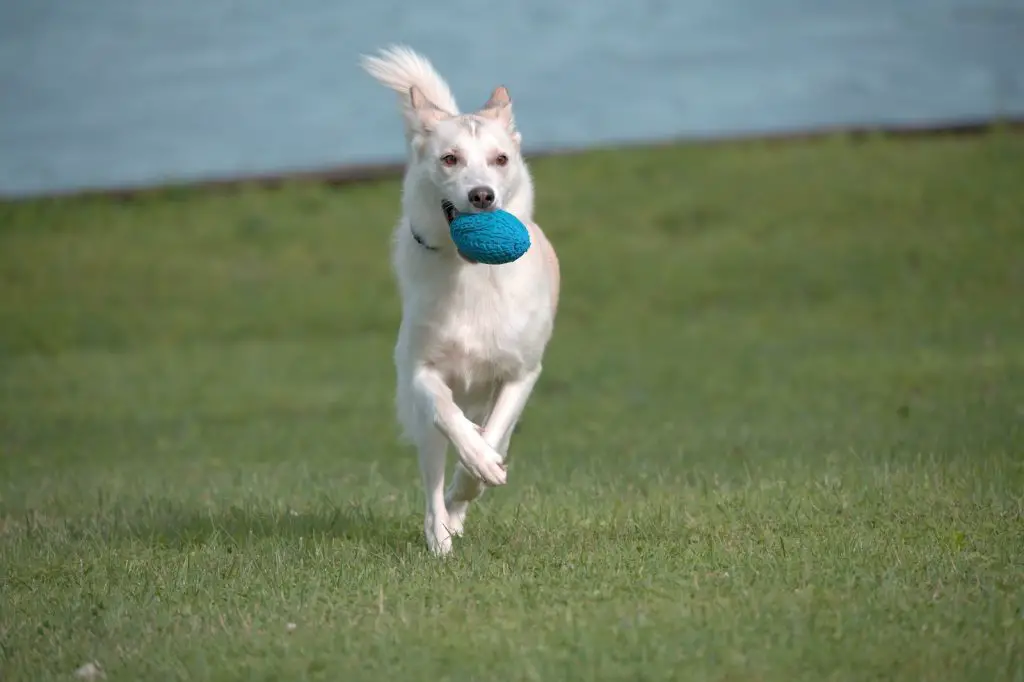 What to Look for When Buying Best Toys for Deaf Dogs?
Buying toys for deaf dogs or hearing dogs is not that different. Like hearing dogs, deaf pups love squeaky toys. While it's obvious that they can't hear the sound, that doesn't mean they don't enjoy the experience of playing with the squeaker.
Here's what you should keep in mind when searching for the best toys for your deaf pups.
A. Toys with a Fun Tactile Experience
Generally, dogs spend more or less the same amount of time exploring with their mouths as they do with their eyes and ears. Hence, a deaf pup would love something to chew on! Tactile toys, including crunchy toys and rubber teething toys, allow your deaf dog to try and experience new textures.
B. Mentally Stimulating Toys
Just because your beloved pet's hearing is impaired, it doesn't mean it can use other senses. A great way to stimulate its brain and other senses is by giving it interactive puzzle toys. A mental puzzle paired with a rewarding treat can be mentally stimulating for your deaf pup.
C. Visually Stimulating Toys
You can stimulate other senses such as smell and sight of your deaf dog by giving it the correct toys. Look for toys that are visually stimulating like light-up or glow-in-the-dark toys. This will help engage your pup's sense of sight, keeping it calm and happy. Moreover, visually stimulated pups experience lower levels of stress and are typically less agitated.
D. Plush Toys
While plush toys are not a very stimulating option, they still make great toys for your deaf dog. Dogs generally love cuddling and engaging with soft toys. They view them as a very comforting element of their life.
While you might be concerned about your deaf dog just tearing the soft toy to pieces, it allows your dog to have some destructive fun. Moreover, plush toys tend to help pups relieve their tension and frustrations.
Regardless of the toys you give to your deaf pups; you need to ensure their safety. Always check the safety features of a product before giving them to your dog. Since dogs tend to tear apart plush toys using their teeth, you need to ensure that the plush ball is entirely safe, or it might result in significant health issues.
You want to provide your little deaf pup with the best quality toys to stimulate their overall experience and make them happy. Since dogs tend to get aggressive and lash out destructively, offering them excellent quality products ensures their longevity.
So whenever you invest in a product, read reviews to know how long the toy lasts. By providing your dogs with good quality and durable toys, you don't need to worry about investing in new toys repeatedly.
The price of the toy usually depends on all the above factors. You can get toys at a low cost, but they might not be of the best quality. If the toy is not durable, you will eventually have to spend more as you will have to make repeated purchases. Just make sure that you get a toy with most of the features mentioned above at the best value.
Deciding on the Best Toy for Deaf Dogs
The clear winner of this buying guide is the Pet Qwerks Blinky Babble Ball. It is a highly-interactive toy that stimulates your pup's sense of sight. Moreover, it is cost-effective, has a great design, and is highly durable. Even if your pup is a highly aggressive chewer, this toy will last for a long time, even if it gets bent out of shape.
The light of this toy is motion-activated, which will encourage your deaf pup to throw it around and play with it. Moreover, this babble ball greatly satisfies the nipping needs of your pup. The only drawback of this fantastic toy is its loud noise, which can bother you.
All in all, it's necessary to provide your cute little pup with the right toys to encourage them to be more engaging. Moreover, it is also essential to find the correct toys that promote their mental and physical development.