The best outdoor doormat for dogs can help you minimize the mess your dog(s) makes with its muddy paw prints.
Let's face it, as cute as they look, dogs are dirty creatures. They would give anything to run through a puddle of mud.
Regardless of the size or breed, if you have got an active dog that always goes in and out of the house bringing all the dirt with them, then it is your cue to get the best outdoor doormat for dogs that money can buy.
In this buying guide, we will explore all the aspects of a good dog doormat and review our top five best products.
5 Best Outdoor Doormat For Dogs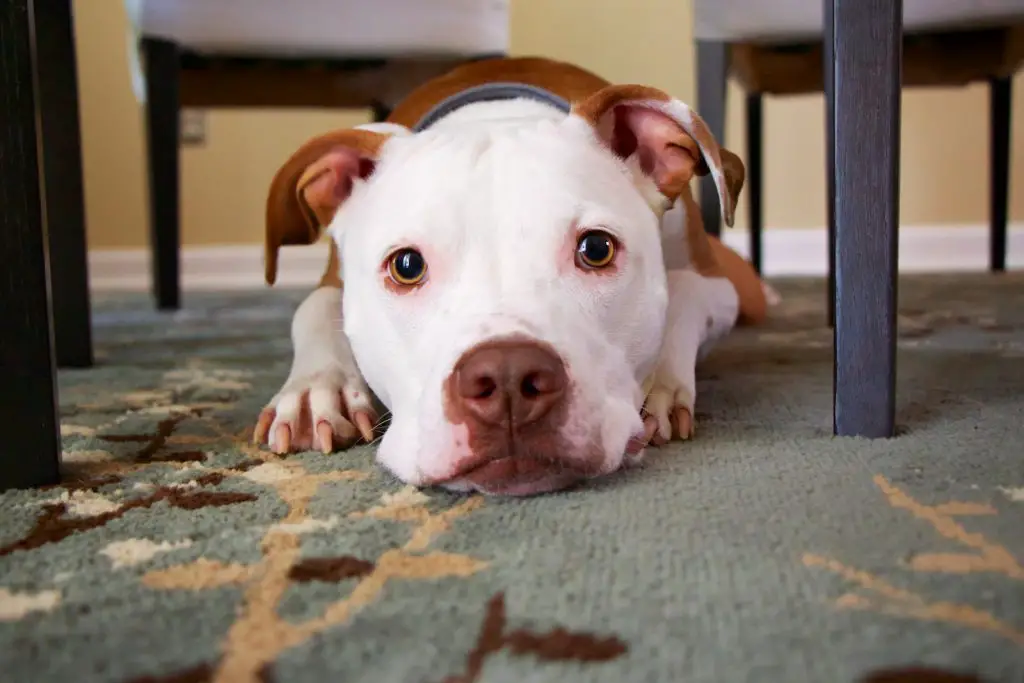 5 Best Outdoor Doormat For Dogs Reviews
Dog Gone Smart Dirty Dog Doormat 
Sale
Dog Gone Smart Dirty Dog Microfiber Paw Doormat – Muddy Mats For Dogs – Super Absorbent Dog Mat Keeps Paws & Floors Clean – Machine Washable Pet Door Rugs with Non-Slip Backing | Runner Pacific Blue
ENHANCED TECHNOLOGY: Our mats have a highly absorbent blend of fibers and a high GSM (Grams per Square Meter) rate of 3000 that is higher than our competitors with a GSM from 900 to 1500, and are the only mats to use the heavy "Gripper Non-Skid" backing on the bottom to prevent skidding and movement.
BUILT FOR ACTION: Constructed with double basting and even stitching for rugged durability and long lasting use. The microfiber strands dry five times faster than ordinary doormats. Built for the most active outdoor dogs to rid their feet of mud, dirt, hair, and grass.
SWEEP LESS: The Dirty Dog door mat will free up time in your day that you'd otherwise spend cleaning. Our rug will help keep your floors walkable with no extra work required. Just set the mat down at an entryway and you're good to go. Some customers place a mat at every door!
VERSATILE FUNCTIONALITY: Now you can enjoy the company of your best bud without having to dread the mess that typically comes along with it. Our mats can be used inside, outside, in a crate, or in the car. At home or on the go, we have you covered!
MACHINE WASHABLE: Runner doormat measures 60×30 inches and is machine washable. We recommend shaking them out and washing on a delicate setting for optimal maintenance, then air dry.
If you are looking for the best and the most versatile doormat for dogs, the Dirty Dog Doormat from Dog Gone Smart Pet Products is our #1 recommendation.
It is not only stylish that's available in a whole of sizes and colors, but it is more absorbent to remove water, moisture, and dirt. It is composed of microfiber material that allows the dog's paws to dry easier and faster than most doormats.
On the other hand, this dog doormat is excellent at trapping debris and boasts a non-skid bottom making it more suitable for nervous dogs.
Gorilla Grip Original Durable Rubber Door Mat
Sale
Gorilla Grip Waterproof All-Season WeatherMax Doormat, Durable Natural Rubber, Stain and Fade Resistant, Low Profile, Indoor Outdoor Door Mats, Easy Clean Patio Entrance Mat, 17×29, Midnight Maze
THE ORIGINAL WEATHERMAX ALL SEASON DOORMAT: Gorilla Grip's Original WeatherMax doormat is built tough with a heavy duty, yet soft and flexible construction; deep grooves, beveled rubber border and retention dam help capture dirt, debris and moisture
STAIN, WEATHER AND FADE RESISTANT: constructed to withstand all weather conditions from snow and rain to mud and sand; stain and fade resistant topside for long lasting use both inside and outside your home
CAPTURES DIRT AND MOISTURE: durable woven topside and deep grooves capture dirt, mud and moisture; our doormat works to help keep unwanted debris from tracking into your home
DURABLE NATURAL RUBBER BACKING: designed with a durable natural rubber backing; natural rubber provides higher tensile strength, higher tear resistance, and less odor than synthetic rubber
DURABLE FOR HIGH TRAFFIC: perfect for daily use in high traffic areas; low profile design allows doors to easily open over the mat; .3 inch thick mat measures 29 x 17 inches
This is probably the sturdiest dog doormats available in the market right now. The Heavy Duty Dog Doormat from Gorilla Grip is composed of 100% natural rubber, which is designed to be strong and durable, yet flexible and soft for all-around use.
Moreover, this dog doormat features beautifully woven polypropylene fabric for added safety and appearance. It efficiently traps moisture and dirt thanks to the beveled rubber border. It is easy to clean, as well.
No need to use heavy-duty cleaning agents. Simply shake, smack against a wall, or vacuum.  
Soggy Doggy Doormat
Soggy Doggy Doormat with Bone Design, Microfiber Chenille Indoor Wet Dog Mat for Muddy Paws and Drying, Ultra-Absorbent Dog Mats for Sleeping and Lounging, Beige/Red Bone
Superabsorbent Microfiber Rug Mat — Fuss no more about wet and muddy paw trails inside your home! Compared to ordinary dog mats, this microfiber chenille dog rug mat absorbs 5x more water and muck like a sponge.
Quick-Drying and Odorless — Smelly dog door mats ruin your home's whole vibe. Our Soggy Doggy dog rugs for entryways and cars remain odor-free and fresh smelling for everyday use.
With Non-Latex, Anti-Slip Backing — Does your hyperactive dog keep displacing your dog rugs? Our Soggy Doggy mats incorporate a non-latex and non-skid backing design to make sure it stays in one place.
Designed For Long-Term Use — This dirty dog door mat is purposely created for energetic and messy dogs. Durable enough to last years, our dog doormat stays in good quality no matter how playful and active your furbaby gets.
Oh-So Soft with Cute Bone Design — For your pet's comfort, our adorable dog paw cleaning mat is gentle and silky against their belly and paws. It also has a doggy bone design that adds a pop of quirkiness in your home.
If yours is a large dog with a habit of treading dirt and mud through the house, then this product from Soggy Doggy is your best option. It is composed of high-quality microfiber and boasts a highly absorbent design.
Most importantly, it is machine washable, saving you the time and process of cleaning. It is durable and quick to dry and available in different color options. Soggy Doggy Doormat is soft and snuggly, meaning you can even pat down your dog with the mat after their bath.
 This mat is perfect for medium to large dogs and even small dogs as well. 
iPrimio Dog Extra Thick Micro Fiber Pet and Dog Door Mat
If you are on a budget and looking for a practical yet inexpensive dog doormat, then this extra thick microfiber dog outdoor doormat from iPrimio is your best option. The extra thick design makes it a plush mat that can soak more water and moisture than regular doormats.
Other features include a machine washable, non-skid design and two color variants. What's more interesting is the paw prints embroidered into the design that gives it an attractive finish. 
It also comes with an extra waterproof liner that provides additional support to the floor.
My Doggy Place Ultra Absorbent Microfiber Dog Door Mat 
My Doggy Place Microfiber Dog Mat for Muddy Paws, 36″ x 26″ Oatmeal – Absorbent and Quick-Drying Dog Paw Cleaning Mat, Washer and Dryer Safe – Non-Slip Rubber Backed Dog Floor Mat, Large
Superior Water and Dirt Trapping: 5x more absorbent than regular dog mats, these mud mats for dogs effortlessly capture and hold water, mud, and dirt, ensuring your floors stay clean and dry
Unmatched Durability: This dog floor mat features double stitching and tough, durable construction that enables it to withstand everyday use, ensuring a long-lasting solution for your needs
Secure and Slip-Resistant: Special adhesive in the fabric keeps this non slip mat for dogs firmly in place, preventing accidental slips and providing added stability for indoor and outdoor use
Versatile Design for Any Space: Suitable for both indoor and outdoor use, this super absorbent floor mat features an aesthetic design that complements any room
Machine Washable and Quick Drying: Our chenille microfiber pet mats for muddy paws are washer and dryer-safe, making them easy to clean and maintain
Last in our list the Ultra Absorbent Microfiber Dog Doormat from My Doggy Place. Composed of microfiber materials, this dog doormat is crafted to tolerate your dog's rough paws. Its stitching is sturdy, which makes it highly durable. It is available in three different size variants, and the plush design allows your dog to use the doormat as a bed as well.
What Is An Outdoor Dog Doormat, and Why Do I Need It ?
If you are a dog owner, then having an outdoor dog, doormat is necessary. This small addition to your home can actually have a significant impact.
As mentioned earlier, dogs are messy creatures; they love to explore every nook and corners outside, whether it is a bush or a mud puddle. They can bring all the possible mess back into your house, leaving you with no choice but to indulge in a daunting cleaning task.
Well, you can't always keep your dog inside all the time; it is not suitable for their health. Preventing your dog from spending time outdoors is both cruel and a guaranteed way to develop a depressed dog that resents their life. 
If you want to keep all the debris, mud, water, dirt, and anything else your dog gets along on their paws from outdoors, then you need to invest in a high-quality doormat explicitly designed for dogs.
As compared to your normal outdoor doormats, the dog outdoor doormats utilize thick and absorbent materials that ensure to keep your dog's paws clean when entering the house. The dog's paws carry containments that can affect your home and people residing.
You may not be able to control what kind of mud and dust goes into your house, but having a dog doormat at the entrance is a way to guard it against the unnecessary. With outdoor dog doormats, you can prevent floor damage and other factors like slip and fall.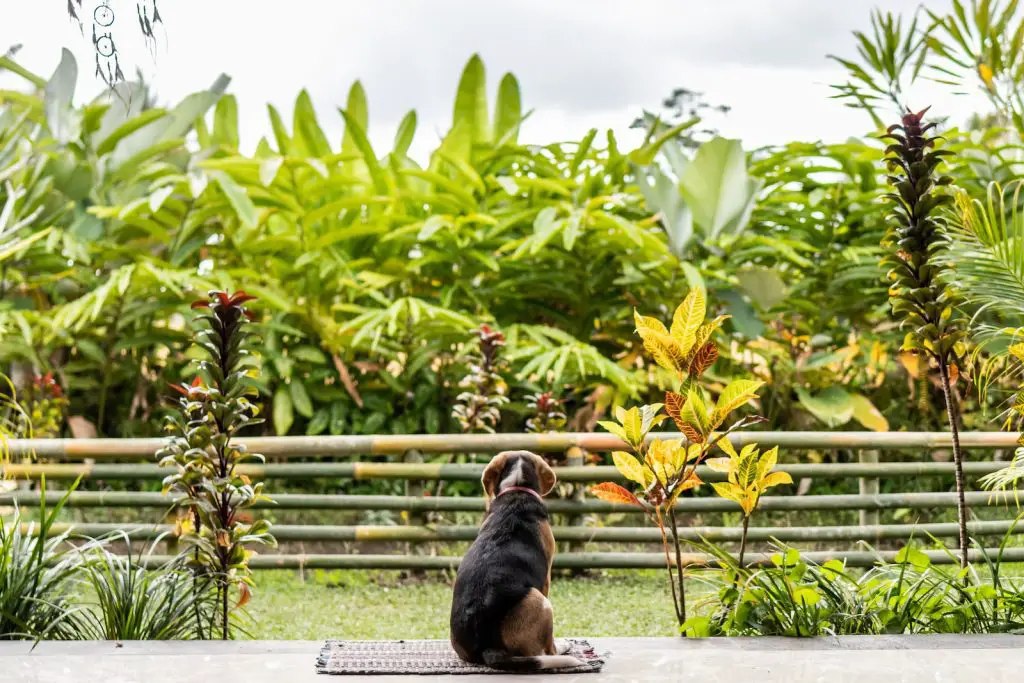 Will A Doormat Stop Muddy And Wet Paw Prints From Getting In The House?
A dog doormat is specially designed to keep mud and dirt out of your house. They are composed of either PVC rubber or microfiber that cleans the moisture, dirt, and debris from the dogs' paws. A dog doormat pretty much works like our regular outdoor doormat, but their composition is a bit different that makes them more useful.
The dog doormats are designed to keep pretty much everything from your dog's paws from entering your house. Depending on the size and features, all dog doormats work differently. They are also stain and odor resistant that makes them easy to clean.  
Any dog with easy access to the garden will bring a copious amount of the great outdoors in its paws and coat. You need to take preventative measures when you know you can't keep your dogs from getting dirty.
Dog doormats are canine-friendly. They are designed to provide comfort to dogs when they stand on top of them. Their composition is in such a way that they soak moisture from the dog's paws and clears out the mud and debris from the nails and corners of the paws.
This not only keeps their paws clean but also ensures to maintain the health of your dog. Mud, moisture, and debris can cause some severe infections in your dog's paws, especially if there is an injury. The dog doormats can help minimize the risk of infection and contamination while keeping your floors clean and daisy fresh.
Can I Use An Outdoor Doormat For Dogs Indoors Too? 
Depending on the absorbency of the doormat, they can be used indoors as well. If you have a larger dog breed like an Alaskan Malamute with dense coat and fur, then you can also use a dog doormat indoors too. These doormats are extremely handy, especially after your dog's bath.
Dogs can hold a lot of water in their fur, and they need a safe place to stand and be dried off. You can use the dog doormat at your bathroom entrance. It will help your dog dry off quickly after a bath.
Your dog can even lie down over the whole surface and let the water seep in. This is a convenient tool to use indoors. However, you need to ensure that the dog doormat you are buying for indoor use is absorbent.
You can place the doormat under your dog's food and water bowl or at the bathroom entrance to keep your floor neat and tidy. However, if you use outdoor doormat for dogs indoors too, you may have to take proper care of it. That is, doormats placed outdoors are exposed to sunlight and wind, which keep it dry.
However, doormats placed indoors can easily retain moisture due to lack of exposure to the sun. It may start to produce an unpleasant odor in your house. So, you need to keep the doormat fresh and clean all the time, if you are using it indoors. You can dry it under the sun after its usage.
How Do I Clean An Outdoor Doormat For Dogs?
Doormat for dogs gets easily filthy. All the dirt and mud from the outside gets collected in it, which if not cleaned and looked after can lose its effectiveness and may lead to stains and unpleasant odor.
However, there are ways using which you can keep the dog doormats daisy fresh all the time. All it requires is a bit of your time and the right tools. While dedicating your time to clean the dog doormat may seem like an extra chore given that you have already enough of those on your list, a useful outdoor dog doormat will help keep the grime and dirt away from floors.
Therefore, keeping the doormat clean can save you money and time in the long run. Cleaning the dog doormat will take about 20 minutes even with the most vital ingredients. But, certain factors can make the cleaning process much longer, such as odors and stubborn stains.
How stubborn the stain and odor are on the dog doormat will determine the cleaning materials you require. The most basic cleaning agents include a vacuum cleaner, garden hose, and detergent/dish soap. Other alternatives include a scrub brush, baking soda vinegar, and machine washing.
Most microfiber dog doormats are machine washable so that it will save you a lot of time. You may also prefer buying some advanced cleaning agents if the stains and odor persist on the dog doormat.  
Some doormats will need a little rinse with the garden hose while some may require brush action to get out the entire gunk.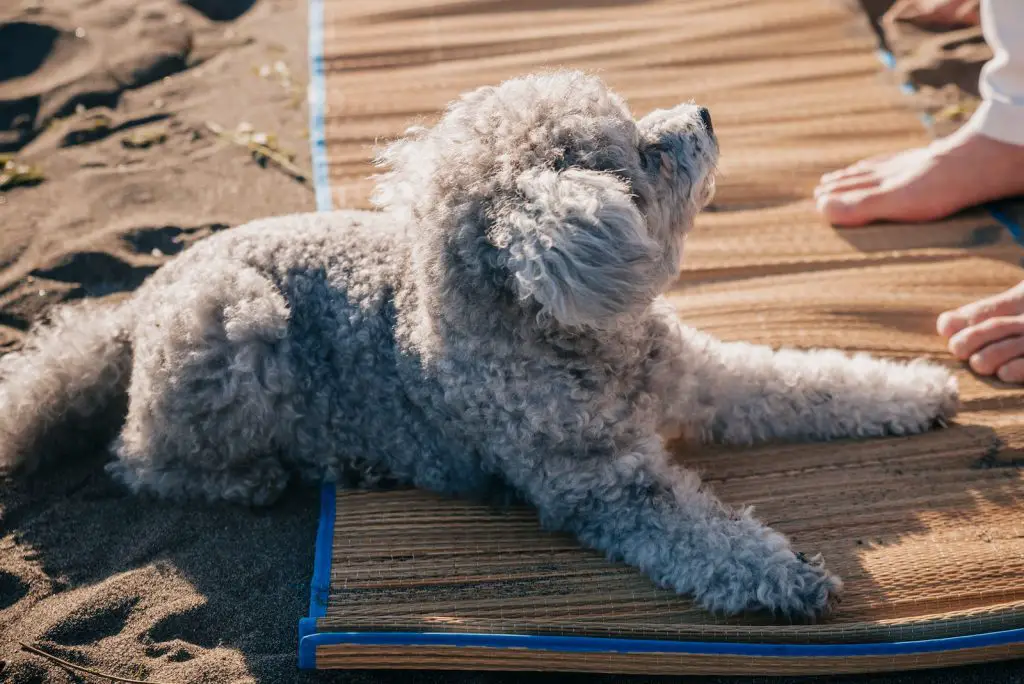 How Often Do I Clean An Outdoor Doormat For My Dog? 
Those who prefer cleaning the dog doormat daily can simply shake out the dirt on the mat and sweep it as you clean your doorway. Moreover, you can also vacuum the doormat to remove most of the dirt. We recommend vacuuming with a brush attachment. It will help you remove dust and debris hidden deep inside the fabric or material.
If you are a weekly cleaner, you can smack the dog doormat against the wall to dislodge all the debris and dirt. The smacking will help remove the solid particles from the mat. After that, you can use vinegar or baking soda to remove any odor. Most importantly, make sure to put it under direct sunlight for a couple of hours.
If you are a monthly cleaner, then smacking the dog doormat against the wall or merely shaking it might not get rid of all the dirt and debris. A month is a long time, and it can quickly accumulate stains and smells. So, dampen the doormat and pour some soap solution over its surface.
Use a brush to scrape off the unwanted stains and dirt. Wash it thoroughly under the garden hose and allow the doormat to dry completely. Once it is thoroughly dried, sprinkle some baking soda powder all over its surface, let it sit there for a couple of hours under direct sunlight before using a vacuum cleaner.
If you are cleaning the dog doormat seasonally, it can prove to be a tough task to get rid of the stains and odor. First, you need to remove the excess dirt and debris from the doormat. You can use a brush to perform in-depth cleaning. Then, you can machine-wash the mat for a perfect result.
You need to choose the right dog doormat that not only does its job perfectly but will also go easy on you when it is time for cleaning.
What To Look For In The Best Outdoor Doormat For Dogs?
There are a lot of things to consider when picking the best outdoor doormat for dogs:
First and foremost, you need to consider the size of the doormat. Depending on your dog's breed and size, you can choose the doormat size.
The dog outdoor doormat comes in two types of materials – microfiber and PVC rubber. Both the materials have their own advantages. Microfiber doormats are soft whereas PVC rubber doormats are easy to clean.
The doormat you choose must be stain and odor resistant else it can make your whole living space look untidy and unhealthy to live in.
The dog doormat you choose must be absorbent, as it will help keep the moisture away from your dog's paws and body.
There are several cases of slip and fall due to slipper doormats. The chances of you slipping and falling are greater than your dog's, so it is critically important to choose one that's anti-skid.
Your dog may find the idea of chowing down the doormat intriguing. Outdoor dog doormats can be expensive, and you would not want to invest money in one after another doormat because your dog loves to chew them and scratch them. Choose the one that can tolerate even the harshest of the paw attacks.
Washing the doormat, at times, can prove to be daunting. You need to choose the one that's easy to clean and can tolerate most cleaning agents, including machine wash.
Moisture content on the doormat can attract several microorganisms and can lead to bad odor. The dog doormat you choose must be quick drying.
Most outdoor dog doormats are compatible for all season usage, as they can tolerate harsh weather conditions. You need to check this with the manufacturer before buying the product.
Avoid Muddy Paw Prints With The Best Outdoor Doormat For Dogs
Overall, Dog Gone Smart Pet Products Dirty Dog Doormat is the best outdoor doormat for dogs. This mat uses a heavy 'gripper non-skid' backing underneath the mat for a stronger hold, even on slippery surfaces. What makes it an excellent doormat for dogs is that it is highly durable and ensures that your dog's paws are bone dry when it enters the house. It is the best doormat you can get for a reasonable price.
We have tried and tested the products before reviewing them. So if you have any queries regarding the products we have mentioned or any other related issues, you can always contact us.