The ongoing debate between sleeping with your pet has been drawn-out for years. 
Regardless of what side of the argument you're on, dogs have historically been companions to humankind.
One perspective changing statistic concluded by Christy L. Hoffman is 55% of pet owners shared their bed with one dog or more. Therefore, it's likely more people value the benefits of sharing a bed with their furry friends.
Dogs are quickly replacing extra pillows and stuffed animals for multiple reasons. Some benefits to sleeping alongside your furry friend are explained in Casper's reasons to sleep with your dog.
Many reasons people are sharing their beds with dogs are mental health related. Arguably the most obvious is dogs can reduce loneliness. Whether you're away from home for the first time or can't live with roommates, dogs provide companionship and security while sleeping alone.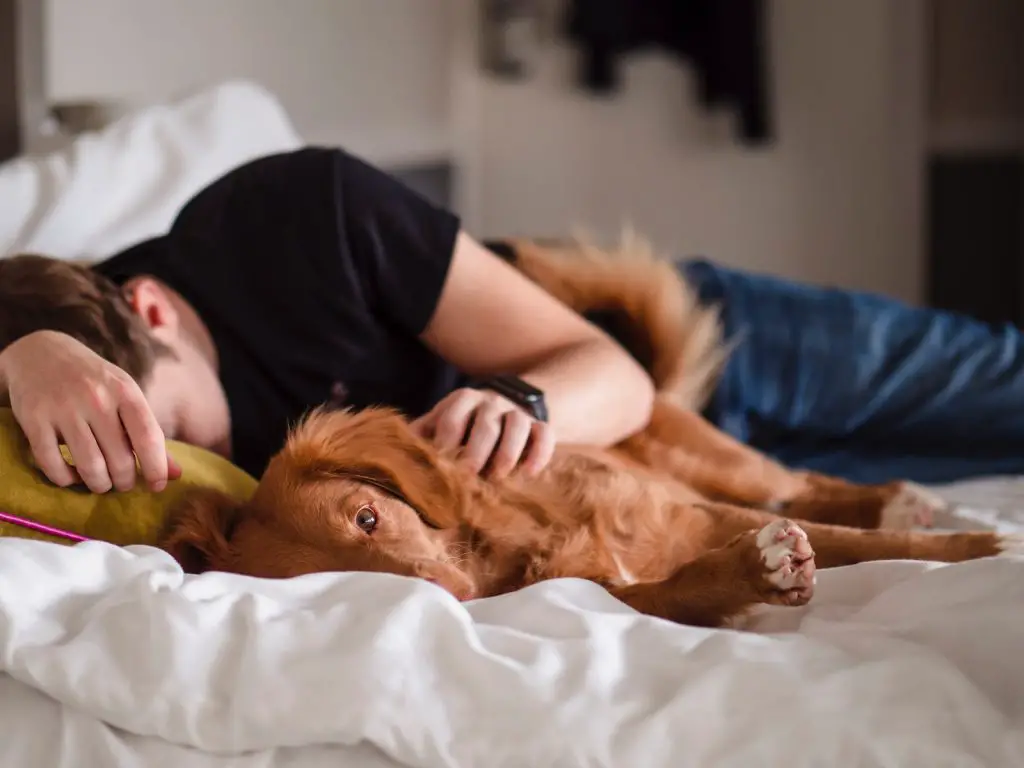 A second, less obvious, people sleep near their dogs is lower blood pressure. A University of South Carolina study concluded petting a dog linked to lower blood pressure levels. This translates into sharing a mattress with your dog. Having physical touch with your pup is an easy way to relax and drift into a deep sleep. 
Ever wonder about the relationship between stress and pet ownership? The Human-Animal Bond Research Institute reports 74% of pet owners saw mental health improvements due to pet ownership. One reason this statistic is so large is human-pet interaction releases oxytocin. 
The oxytocin chemical has a direct relationship with human moods which can help minimize the stress chemical cortisol. As a result, you get an improved night's sleep. 
Want to learn more about the benefits of sleeping near your dog? Casper created a downloadable infographic listing 13 benefits of cuddling with your pup at night. Whether you're concerned about losing leg room or worry about allergies, some of these benefits are likely to change your perspective.