Your might be wondering if buying the best dog crate for separation anxiety a good solution for pup's anxiety problems.
What is it that your dog does when you leave him alone? Is he escaping the kennel, or destroying it while you are away?
The most common complaint of dog owners is that their furry friends are destructive or disruptive when left alone. Is your dog suffering from separation anxiety?
Well, modern lifestyle often gets in the way, and your dog may feel left out of your life. Don't worry, every problem has a solution, and your solution lies in finding the best dog crate for separation anxiety.
In this buying guide, we not only have listed the best dog crates but also discussed everything you need to know about separation anxiety in dogs.
5 Best Dog Crate For Separation Anxiety 
5 Best Dog Crate For Separation Anxiety Reviews
Petmate Sky Kennel Dog Crate
Sale
Petmate Sky Kennel Pet Carrier, 40 Inch, Made in USA
Extra Security: 4 way vault door provides extra security for the travel dog crate by preventing sliding and shifting (available on 36 inch size and up)
Durable, Heavy Duty Construction: Durable plastic shell, non corrodible wing nuts, extra strong steel wire, and interlocking door provide heavy duty protection
360 Degree Ventilation: Ventilation openings surrounding the travel kennel give pets fresh air and visibility from all sides
Travel Necessities Included: Portable dog kennel includes 2 Live Animal stickers, clip on bowls and ID stickers for easy modification for travel. Top Handle available on 21 inch and 28 inch sizes
Airline Adaptable: The Petmate Sky Kennel meets most airline cargo specifications for easy and safe travel, but pet owners should always check with individual airlines
Petmate Sky Kennel is a high-quality, no-frills kennel that will keep your dog safe and sound while you go about your day. This is an airplane-friendly dog crate that is designed to keep your separation anxiety-ridden dog calm, composed, and out of trouble while you are away. It is composed of 25% recycled materials and meets most airline requirements.
There is ample ventilation to keep the dog comfortable. It is a heavy-duty dog crate that can accommodate larger, more determined canines representing an escape risk.
The hard plastic sides with no-frills and extra-large top offer a soothing, dark environment giving your pup a sense of security. Unfortunately, it only comes in one color. 
Guardian Gear ProSelect Empire Dog Cage
ProSelect Empire Cages – Medium
Dimensions: 33.75″ H x 37″ W x 25.13″ L | Bar Spacing: 2.25". Inside dimensions-35¾ L x 23½ W x 24½ H inches
20-Gauge Steel Cage – This ProSelect Empire dog cage is extremely strong with reinforced 0.5-inch diameter steel tubes and 20-gauge steel
Medium-Sized Cage – (26 – 40 lbs)
Floor Grate With Tray – Cleanup is easy with this ProSelect dog cage because of its grated floor with tray
Removable Casters – You can attach casters to the bottom of the cage to allow for easily rolling the cage to other locations or leave the casters off for added stability.Durable Dog Cage – The Empire cage will stand up to the toughest abuse from the largest dogs with strong latches and thick steel construction
If you are looking for a more sturdier and hefty dog cage for your separation anxiety-ridden dog, then ProSelect Guardian Gear Empire Dog Cage for Separation Anxiety is a great choice to have. It is one of the most durable dog crates you will find on the market.
It is composed of high-quality stainless steel that will keep even the most aggressive or anxious dogs safely contained. The 20-gauge reinforced steel bars can contain even the larger dog breeds.
This dog crate for separation anxiety includes a floor grate with a tray that makes cleanup easy. The casters are removable allowing you to attach them to the bottom at the time of making a transfer
MidWest Life Stages Double Door Folding Metal Dog Crate 
MidWest Homes for Pets XL Dog Crate | MidWest Life Stages Double Door Folding Metal Dog Crate | Divider Panel, Floor Protecting Feet, Leak-Proof Dog Pan | 48L x 30W x 33H Inches, XL Dog Breed
Newly enhanced with added security features to keep your pet safe | Slide-bolt door latches now feature patented Paw Block and locking tips to create a safer, more secure home for your pet
Life Stages double door dog crate measures 48L x 30W x 33H inches and is suitable for extra-large dog breeds with an adult weight of 90-110 pounds. If your dog's weight or measurements are on the higher side for this crate, we recommend buying the next crate size up. When in doubt, bigger is better
Dog crate includes a divider panel, durable & leak-proof plastic pan, protective rubber feet, carrying handle, and customer support team based in Indiana
Easy to assemble & portable | Dog crate sets up in seconds with no tools required and conveniently folds flat for travel
Durable & strong, quality construction creates a secure place for your dog to fulfill their natural instinct to den. Proper ventilation, large door openings with low thresholds, and patented rounded corner clips make Life Stages a safer crate experience for your dog
This is one of the best dog crates to have if your dog has separation anxiety. It boasts the double door feature that makes the cage very suitable allowing your dog to move in and out the cage from either side. There is a divider panel that facilitates your dog to enjoy more space as it grows. The divider panel allows you to adjust the length of the crate.
Moreover, the fold and carry configuration of this adjustable dog crate makes is user-friendly as you can simply fold the crate and carry it wherever you want. Lastly, its large size can accommodate dogs of any size and weight.
The crate features a durable design vouch for a safe place for your dog allowing your dog to move freely while you are away. You just have to be careful when handling the crate due to its sharp edges.
AmazonBasics Folding Soft Dog Crate for Crate-Trained Dogs
Amazon Basics 2-Door Collapsible Soft-Sided Folding Soft Dog Travel Crate Kennel, Small (18 x 18 x 26 Inches), Tan
Soft-sided dog crate for keeping a furry 4-legged friend safe and comfortable when traveling
Includes a Small dog crate made of tan polyester fabric and a lightweight yet sturdy frame
Sets up in seconds with no tools needed; folds flat for easy portability and compact storage, 2 doors (top and front) for easy loading and unloading
Secure zipper closures, plus fastening straps to keep unzipped rolled-up doors in place and out of the way; mesh windows and front door provide ventilation on all 4 sides
Recommended for small breeds such as Boston Terriers and Beagles (25 lbs)
If you are looking for something cozy to keep your dog feeling secure and comfortable while you are out working your day job and running your errands, then this folding soft dog crate from AmazonBasics is an absolute best for your separation anxiety-ridden furry friend.
This soft-sided crate is designed in such a manner that it makes it easy to assemble and ultra-portable. On the other hand, this model can be used both outdoors and indoors irrespective of the weather, as it is waterproof and heatproof.
Even though this dog crate is well built, its mesh can be easily torn by dogs. Hence, it may be not suitable for dogs that chew a lot.  
EliteField 3-Door Folding Soft Dog Crate
EliteField 3-Door Folding Soft Dog Crate with Carrying Bag and Fleece Bed (2 Year Warranty), Indoor & Outdoor Pet Home (24″ L x 18″ W x 21″ H, Green)
This 24″ soft crate measures 24″ long x 18″ wide x 21″ high, which is 2″ wider and 4″ higher than most other brand 24″ soft crates. The extra space provides a more spacious and comfortable environment for your dog. The soft crate is fully assembled and can be set up and folded down in seconds, without requiring any tools.
The crate frame is constructed from sturdy steel tubing, while the crate cover is made of high-quality, durable 600D fabric and hex mesh fabric. This makes a well-ventilated, stylish, lightweight, and durable crate that provides a comfortable and secure environment for your dog.
The crate features three mesh doors located on the top, front, and side, providing convenient access, improved sunlight, and breathability. The front and side doors have zipper locks to ensure safety and security. Additionally, the crate has two accessory pockets located on the top and back for added storage. The crate cover and bed cover are both removable and washable, making maintenance and cleaning easy.
The crate comes with a free carrying bag and fleece bed. The crate has a handle and hand carrying straps, while the carrying bag features both hand carrying straps and an adjustable padded shoulder strap, providing many carrying options. The crate can be folded down to a height of just 3 inches, making it easy to transport and store.
You will benefit from a 2-YEAR WARRANTY from EliteField, a New York-based premier pet product manufacturer. The EliteField brand has been ranked as the top brand in the 'Soft Dog Crate' category on major online marketplaces. Our products come with a quality guarantee, 100% money-back guarantee, and customer satisfaction guarantee.
This is one dog crate that is not only affordable but also boasts convenient features as well. This 3-door model soft dog crate is available in multiple sizes and colors, ensuring that any dog breed you have can easily accommodate inside it. It looks sleek and stylish and can easily contain your separation anxiety-ridden dog.
There are three separate doors – one on the frontal section, one on the side, and one on the top, allowing quick access and providing your dog with necessary ventilation. The fabric is composed of 600D nylon, which is washable and easy to maintain.
Most importantly, this dog crate for separation anxiety is collapsible, meaning it is easy to store away. It comes with some extra pockets so that you can put in some treats for your dog.
What Is Separation Anxiety In Dogs?
Separation anxiety describes dogs that are overly dependent or attached to family members. Dogs become extremely anxious and display distress behavior like house soiling, destruction, or vocalization when separated from the owners.
In simple words, separation anxiety is a state of fear and distress experienced by dogs when people, they are emotionally attached to, leave the house or is just about to go.
In the modern lifestyle, it is the most common issue that dog owners and their dogs face. Irrespective of the breed and gender, any dog can develop separation anxiety. The puppies often begin to show distress the moment the owners prepare to leave.
During separations or departures, in addition to elimination, destruction, and vocalization, dogs may be restless, refuse to eat, salivate, shiver, shake, or become withdrawn and quiet.
Although usually, the behavior occurs every time the owner leaves, in a few cases, it may only happen when the owner leaves again after coming home or during workday departures. Dogs suffering from separation anxiety are often quite aroused and excited when the owners return.
Separation anxiety can be prevented by ensuring that your dog has scheduled times where he learns to spend time alone in his bed or crate.      
What Causes Separation Anxiety In Dogs?
Before we begin, we want to make clear that it is almost never really the fault of a loving family that a dog suffers from separation anxiety. However, humans may play a part in it unknowingly or without any intentions. On the other hand, some dogs, due to genetic factors or breeding, are merely predisposed to separation anxiety.
Your dog may feel panicked when left alone and starts exhibiting stress-induced behaviors like excessive drooling, pacing, destructiveness, bladder control, loss of bowel, or distressed vocalizations. The following are the primary reasons why a dog may experience issues like separation anxiety and start behaving weirdly.
A sudden change of the owner or a family member is the root cause of separation anxiety in dogs. Dogs are social animals and they do like to mingle with others including humans. However, they are only loyal to their owners and family members so, if for some reason, they were separated from their real owner and family placed in a new home, they will start behaving differently. It takes time for dogs to adjust to a new family or an owner especially when they were with one family for years.  
Another cause why dogs may start feeling distressed is when there is a sudden change in the owner's regular schedule. That is adopting a puppy over a holiday and not preparing it for everyone's back-to-school and back-to-work schedules.
Your dog was spending time with you and your family members over a long weekend and all of a sudden, he is left alone in the house without any clue. It is understandable that your kids have school and you have to go to work, but this can leave a big scar in your dog's mind, leaving him to feel abandoned.
Relocating to a new place where the house, locality, and people nearby are all unfamiliar to your dog may trigger separation anxiety in your dog. Like most animals, dogs too have territories. In this case, your home is your dog's territory. Like we feel safe and comfortable in places we know and live in, the dogs too feel safe and comfortable in their territories.
When there is relocation, your dog isn't able to adjust to the new settings quickly and may find it difficult to consider your new home as his new territory. The condition worsens when you leave your dog alone in a new place that he is struggling to adjust to.
The feeling of abandonment is one of the main reasons for dogs experiencing separation anxiety. If you are out of the house for the most part of the day and not giving your dog enough play time with you, then your dog may start feeling abandoned. This happens especially when your dog is overly attached to you.
Factors like over-use of isolation as a punishment tool or unnatural isolation due to household dynamics can make the dog feel abandoned. They will start behaving weirdly such as eating their own feces, damaging household essentials, and more. 
Any significant change to a dog's daily routine or trauma as a result of sudden abandonment due to death, the breakup of a family as a consequence of divorce, owner surrender, or as a result of natural disaster can make the dog feel distressed and anxious all the time.
On the other hand, puppy hood trauma such as being shipped across the country, malnutrition, an abusive owner, etc. can trigger separation anxiety in dogs. Such dogs need to spend as much time as possible with other dogs in order to reduce their anxiety levels and come back to normal functioning.   
What Are Symptoms Of Separation Anxiety In Dogs?
When treating a dog suffering from separation anxiety, the objective is to resolve his underlying anxiety by teaching him how to tolerate and enjoy. However, this can be achieved only if you are able to identify the symptoms as early as possible.
The following are the signs and symptoms that prove your dog has separation anxiety. 
Dogs suffering from separation anxiety often howl or bark when separated from their guardian or left alone. This type of howling and barking is persistent and doesn't appear to be caused by anything except being abandoned. 
Some dogs with anxiety issues chew on objects such as door frames, window sills, or dig at doorways and doors. This type of behavior is triggered when they are left alone and probably don't occur in the presence of their guardian.
Dogs with separation anxiety tend to destroy household objects. This is the part of their frustration that they are trying to get relieved from. Chewing, digging, and destroying objects allow them to release stress. However, such kind of behavior can result in self-injury like damaged nails, scraped paws, or broken teeth.
Dogs suffering from separation anxiety may try to escape from the place where they are separated from their guardian or left alone. The dog might attempt to chew or dig through windows or doors.
Dog's, when left alone, tend to trot or walk along a specific path in a fixed pattern. This is a sign of separation anxiety. Some dogs walk back and forth in straight lines, while some move around in circular patterns.
Dogs with separation anxiety tend to panic a lot. They are easily startled by anything and show signs of incontinence as well. 
A dog eating its own feces is known as Coprophagia. Some dogs suffering from separation anxiety defecate and consume their excrement.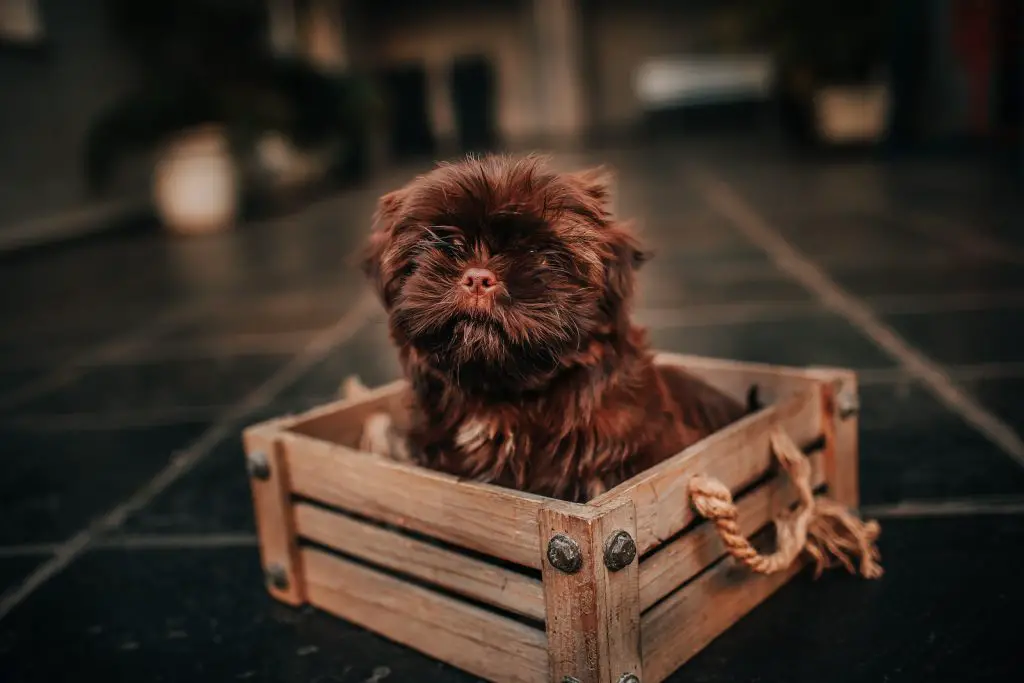 What To Do When Your Dog Has Separation Anxiety?
Separation anxiety can trigger at any phase of your dog's life. You need to understand that it is curable with proper care and methods. First, you need to determine what stage of separation anxiety your dog is in. There are two types of separation anxiety in dogs namely – moderate separation anxiety and severe separation anxiety. The treatment for both types is different.
Moderate separation anxiety in dogs is when the dog is at the earliest stage suffering from depression and anxiety issues. This can be easily treated using specific remedies. A 30-minute exercise, spending more time your dog, giving him toys to play with, timely use of a crate, etc. are the recommended procedures to cure moderate separation anxiety in dogs.
Treating severe separation anxiety in dogs may require additional help from a professional. Your dog may need therapy to cope with his frustration and anxieties. There are therapy dogs that are trained for such instances. You can avail such services to help your dog cope with the problems.   
How Can You Help Your Dog Cope With Separation Anxiety?
Separation anxiety in dogs is the primary reason behind their destructive and frantic behaviors that most dog owners often mistake for other behavioral problems. Treating separation anxiety at its very early stage is crucial because overlooking the aspect may cause your dog to become more aggressive followed by other issues.
There are several different ways using which you can help your dog cope with separation anxiety; however, to help, you need to know what signs your dog is showing. The signs may include unnecessary barking, salivating, dilate pupils, howling, panting, pacing, and trembling among others. So, here are the ways using which you can help your dog cope with separation anxiety.
Toys are an excellent component in providing the much-needed mental stimulation and behavior modification in your dog. Toys are physically and mentally stimulating and assist in fulfilling your dog's physical and emotional needs. When a dog is suffering from separation anxiety, it needs something to take its mind off, and toys can help to occupy its time and fulfilling its chewing needs.
There are hundreds of toys for dogs available on the market, and you can choose according to your dog's built and breed. Look for an interactive dog toy that will keep your dog occupied while you are away. Most importantly, at least 6-8 toys for your dog so that he doesn't get bored with one toy.   
Exercising your dog is the best way to help him cope with separation anxiety. Take him for a run, throw a ball and let him fetch it for you, and ensure that your dog is getting at least 40 minutes of daily exercise before you leave him alone in the home.
Exercise will help your dog relax and divert his attention to sleep and food. There are plenty of workouts that you can try for your dog. Exercise will not only keep your dog mentally fit but physically as well. You can consult a dog trainer as well to help you with the workouts. 
You need to change your 'going away' signals to break your dog's association with your departure actions in order to not let him trigger separation anxiety. This may sound impractical, as you will be going n matter what. However, there are ways using which you can desensitize your dog to exit cues.
For starters, you can use a different door to leave the house. Put on your coat and take your briefcase, but don't leave for 10-15 minutes. You are advised to leave your shoes, purse, or keys in a different location. When you are about to leave, give your dog a toy or treat as a distraction.
Most importantly, downplay 'hellos' and 'goodbyes.' Getting emotional whenever you come home or leave can reinforce your dog's fear of your absence. 
When you are putting your dog in a crate while you are away, you need to make sure that the crate is comfortable enough to accommodate your dog's alone time. Don't just buy any crate for your dog. You need to put in thorough research before finalizing one. The crate needs to be spacious and ventilated enough so that your dog can sit and sleep comfortably.
If you are buying the cage type crate, ensure that there are no sharp edges and if you are buying a cave type crate, ensure that there is proper ventilation. You can put in some treats and food inside the crate along with some toys to make your dog's stay even more comfortable. 
The best way to help your separation anxiety-ridden dog is to bring home another dog. Or, if you can afford, avail doggy daycare services. However, the best would be to adopt a new pup. This will help your dog forget his anxieties, as he will be playing with the other pup. Someone's presence in the home is all your dog needs to prevent the feeling of being a lonesome dog.
Having another dog will keep your dog engaged, and they both will spend time together chewing toys and munching on treats. In case, if you are thinking of leaving your dog to doggy daycare, it is also an excellent choice. There will be plenty of dogs with whom your dog can mingle and make friends with.  
Whenever possible, take your dog out with you often. Whether it is buying groceries or to the park or someplace else, you can ask your dog to tag along with you. This will allow your dog to spend more time with you. On the other hand, this will bring down your dog's stress levels, making him feel loved and not lonely. 
What To Look For In The Best Dog Crate For Separation Anxiety?
There are certain factors to keep in mind when looking for a dog crate for separation anxiety. The crate needs to be sturdy enough to contain the most determined dog and at the same time; it needs to be comfortable enough to keep your dog calm and composed. The following are the factors to consider when buying a dog crate for your separation anxiety-ridden poodle.
There are mainly three types of materials used for designing dog crates. They are steel, plastic, and fabric. Each of the material has different functionalities. The metal crates are perfect for big large dog breeds that are difficult to handle. The plastic ones are great for keeping less stressed dogs. And the fabric crates are for those medium-to-small breeds that are yet to experience the full blow of separation anxiety.
There are basically two types of crates available – cave type and cage type. It is up to you which one you choose. However, cage type crates are airier and provide proper ventilation as compared to cave type crates, but they are not weather-proof.
The size of the crate you choose will depend on your dog breed. You are always advised to go for a larger size as it will give more space to your dog.
When it comes to security, cage type crates are the best because fabric and cave type crates can be easily chewed down.
You need a dog crate that's chew proof. However, some of the cage type crates come with sharp edges, which can harm your dog. 
The crate you choose should be well-ventilated and airy so that your dog can breathe properly and don't suffocate. This is the key aspect to consider when buying because a separation anxiety-ridden dog can become even worse if the conditions in the crate aren't favoring him.
You don't want to spend much of your time assembling and installing a dog crate. The crates come in multiple design options and you need to choose one that's easy to assemble while providing all the necessary functionalities.
You don't want your dog to escape the crate while you are away. You need to invest in a sturdy dog crate that's not only comfortable but escape proof as well. Some of the plastic and fabric dog crates are too fragile that a determined dog can easily tear off its surface get out of it. Ensure that your dog isn't feeling scared being put in a crate. It needs to be large enough that your dog can easily move inside.
Get The Best Dog Crate For Separation Anxiety For Your Pooch
After reviewing the five dog crates, it is safe to say that Petmate Sky Kennel Dog Crate is the best dog crate for separation anxiety. This heavy-duty dog crate can comfortably accommodate even the larger dog breeds and the best part, this dog crate is flight-friendly, meaning you can carry it on flights. It is lightweight yet sturdy enough to keep your dog contained even when he is acting out aggressively.
When it comes to airflow, it boasts a 4-way ventilation design that will keep your dog fresh and composed. It has an extra-large top with no frills that will provide a much required dark environment to your dog to remain composed. All in all, this is the best dog crate for separation anxiety you should buy.