Maltipoos are some of the best dogs to pet. They have the affection of a Maltese and the playfulness of a Poodle. Their small size makes them easy to take care of. When it comes to the best dog food for Maltipoos, the options are many.
You can feed them high-quality kibble or a frozen diet. As small dog breeds are playful, Maltipoos burn more calories than large dog breeds.
Therefore, it's important only to buy the highest-quality dog food to keep your little pup going. With that said, let's move on to some of the best dog foods for Maltipoos!
5 Best Dog Food for Maltipoos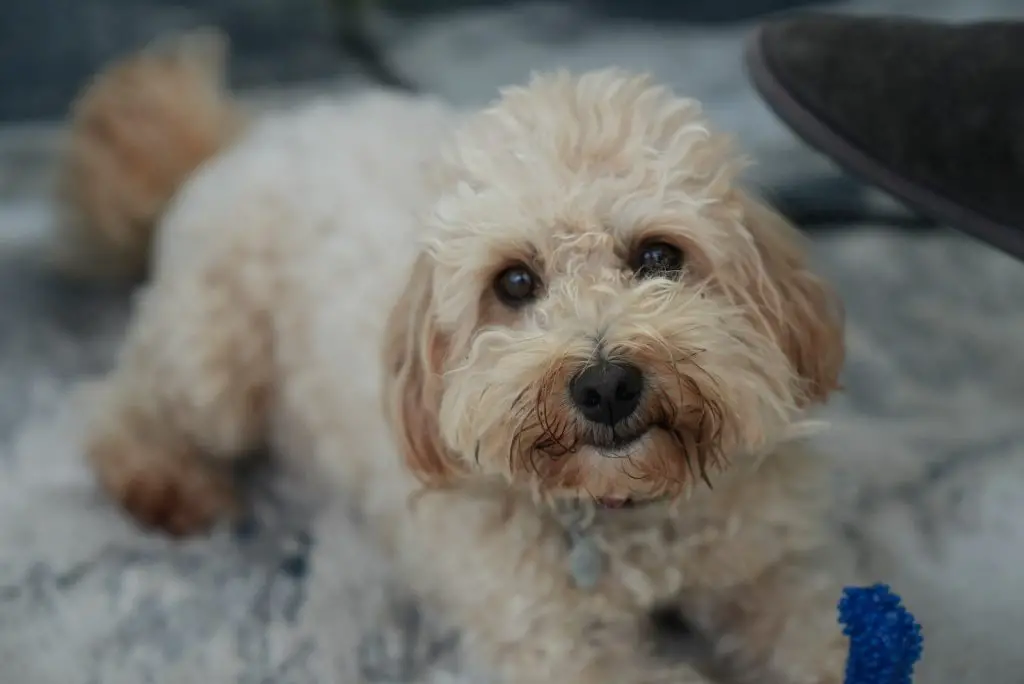 5 Best Dog Food for Maltipoos Reviews
Royal Canin Health Nutrition Small Adult Dry Dog Food 
Royal Canin Small Breed Adult Dry Dog Food, 14 lb bag
SMALL BREED DOG FOOD: Royal Canin Small Breed Adult Dry Dog Food is precise nutrition specifically made for small dogs 10 months to 8 years old weighing 9–22 lb
WEIGHT MAINTENANCE: L-carnitine helps maintain a healthy weight, while helping to meet the high energy needs of small dog breeds
SKIN AND COAT HEALTH: Optimal levels of fatty acids like EPA and DHA support skin and a healthy dog coat
SPECIALIZED KIBBLE: Small breed adult dog food has an exclusive kibble design adapted for miniature jaws
GREAT FOR PICKY EATERS: Enhanced palatable dog food satisfies the fussy appetites of small dogs
When it comes to a precise nutrition package, no one does it like Royal Canin. Made for dogs between 19 months and 8 years of age, this product can sufficiently feed high-energy Maltipoos.
The formula provides joint support, dental care, and the optimal weight of small breed dogs. The feed is made with extremely nutritious ingredients like corn, brown rice, chicken fat, fish oil, L-Lysine, dried plain beet pulp, and a whole bunch of vitamins, minerals, and extracts.
Enriched with fatty acids like DHA and EPA, this dog feed is anti-inflammatory and will keep your dog super-healthy. The kibble is small and can be easily chewed, making it ideal for a Maltipoo's small jaws.
The kibble contains a crucial nutrient called L-carnitine, which ensures a healthy metabolism for little pooches. Maltipoos need a high level of calories for each pound of their body weight.
With L-carnitine, they can burn more calories and use more energy to stay active. With a soft yet crunchy texture, the kibble bites are tasty and palatable.
So, if you want your pooch to live a healthy, long life, you know what to feed him!
Wellness Core Natural Grain Free Dry Dog Food Small Breed
Sale
Wellness CORE Natural Grain Free Dry Dog Food, Small Breed, 12-Pound Bag
SMALL BREED DRY DOG FOOD: Optimal protein levels and calorie content to help support the higher energy needs of small breed dogs
ENJOY A LIFETIME OF WELLBEING: High quality proteins and wholesome grains are expertly balanced to deliver a complete diet packed with the nutrients small breed dogs needs to thrive; no meat by-products, fillers, or artificial preservatives
WHOLE BODY HEALTH: Supported by omega fatty acids, antioxidants, glucosamine, probiotics and taurine for a healthy heart
FIND THE RIGHT FOOD: Wellness offers a full range of foods to support your dog's specific needs, including grained and grain free options, high protein recipes and limited ingredient diets for dogs with food sensitivities
Made in the USA using only the finest globally sourced ingredients, we prepare each of our diets in our own state of the art facility; we craft delicious natural recipes with wholesome, non GMO ingredients chosen for their nutritional benefits
Another excellent option for small breed food is Wellness Core Grain-Free dry dog food. What makes this special is that it's 100% grain-free and super-rich in protein. Made with turkey, spinach, and flax seeds, your pup will instantly feel energized after a meal.
Wellness Core offers a natural formula to give your pooch high-quality protein through concentrated turkey and chicken meal. All the ingredients are real and natural, which means that your dog will only be getting the best nutrients. The kibble is small and made into bite-size pieces that are perfect for miniature jaws like that of a Maltipoos.
Another standout feature of this feed is that it's enriched with probiotics and prebiotics. Maltipoos are quick on their feet, which is why they require a healthy digestive system. The kibble offers digestive support and essential omega-3 fatty acids that keep the skin and hair healthy and shiny.
The dog food is easy to store and can last you for a long time. This dog food packs healthy nutrition in each bite by providing just the right balance of carbs, fats, and protein.
Taste of The Wild Grain Free High Protein Dry Dog Food 
This grain-free dog food is packed with super foods that genuinely make it a "Taste of the Wild"! If you want your pooch to build lean, strong, and healthy muscles, give them this high-protein feed. It's formulated with a rich amino acid content coming from high-quality lamb, venison, and duck that's readily available for a dog to metabolize.
However, the nutrient ratio still has a higher amount of carbs than proteins. It uses high-quality carbs like chickpeas, lentils, and peas to keep your pup feeling full for longer.
The kibble is made under strict food safety protocols. Enriched with vitamins, minerals, and real fruits and vegetables – this dog food is the real deal! The kibble is also small and breaks apart easily, making it ideal for your little pooch.
The best thing about the formula is that it's straightforward to digest. Even if your pooch is tasting this for the first time, the food is palatable, easy to chew, and made for quick digestion. Moreover, it's also supported by healthy probiotics that keep the gut healthy and strong.
If your dog has special allergies, this dog food is ideal as it's made without grains, wheat, or corn. A completely natural formula without any preservatives, Taste of the Wild offers easily digestible and high-profile nutrition.  
Merrick Lil Plates Grain-Free Small Breed Dry Dog Food 
Merrick Lil Plates Grain Free Small Breed Recipe, 12-Pound, Beef
One (1) 12 lb Bag – Merrick Lil' Plates Small Breed Dog Food, Grain Free Real Texas Beef and Sweet Potato Recipe, Small Dog Food
Real deboned Texas beef is always the first ingredient in this small breed dry dog food, which offers the ideal combination of protein and healthy fats to help a dog maintain optimal weight and increased energy
Natural dog food grain free recipe crafted with probiotics and prebiotic fiber for healthy digestion
Merrick dog food small breed recipe made with leading levels of glucosamine and chondroitin to aid in maintaining healthy hips and joints while omega 3 fatty acids to help maintain a healthy coat and skin
This Merrick Lil Plates dog food for small dogs features small kibble to clean teeth and help reduce plaque
This feed is made with real beef and sweet potato. It has a delectable flavor owing to the lamb meal, salmon meal, and of course, deboned beef.
In addition to the bunch of nutritious proteins, this dog food is also grain-free. If your pup is allergic to gluten or wheat, Merrick Lil Plates is a good option.  It's also poultry-free for dogs that are sensitive to chicken and turkey.
The kibble bites are small, crunchy, and can be chewed easily. Each bite has a boatload of fruit and vegetable extracts and plenty of protein. Ideal for your high-energy Maltipoos, this kibble also improves their dental hygiene by cleaning the teeth.
Loaded with omega fatty acids and prebiotic fiber, this dog food is satiating and easily digestible. You'll only need to feed your dog a handful each time!
Nutro Wholesome Essentials Natural Adult Dry Dog Food for Small & Toy Breeds
DISCONTINUED BY MANUFACTURER: NUTRO WHOLESOME ESSENTIALS Adult Small Breed Natural Dry Dog Food Farm-Raised Chicken, Brown Rice & Sweet Potato Recipe, 15 lb. Bag
Contains one (1) 15 lb. bag of Nutro wholesome essentials Small Breed Adult Natural Dry Dog Food Plus Vitamins, Minerals & Other Nutrients, Farm-Raised Chicken, Brown Rice & Sweet Potato Recipe
Farm-raised chicken is the first ingredient in this great-tasting dry dog food that's rich in nutrients and full of flavor
Crafted with natural fiber for healthy digestion
Formulated with omega-3 and -6 fatty acids to promote healthy skin and a soft, shiny coat
This tasty dry food recipe is made with non GMO ingredients and has NO chicken by-product meal, corn, wheat, or soy protein and No artificial flavors, colors, or preservatives
Formulated with farm-raised chicken, sweet potato, and brown rice, Nutro Wholesome offers a wonderful meal for your lil pup. This dog food combines all the essential proteins, fats, fibers, and fatty acids to keep your dog healthy and active.
If your pup feels lethargic or is underweight, it's probably because it's not eating real foods. Nutro Wholesome uses real chicken, whole grain oatmeal, dried apples, and blueberries as well as pure vitamin extracts that are readily metabolized.
If your dog loves eating veggies and fruit, he will love this kibble. There's nothing to dislike about this dog food. Your pup will undoubtedly love this with complex carbs, omega fatty acids, and a boatload of antioxidants.
However, you might have to deal with a slight inconvenience. The opening of the package is at the front instead of on the top. This means you won't be able to see how much you're pouring into the bowl.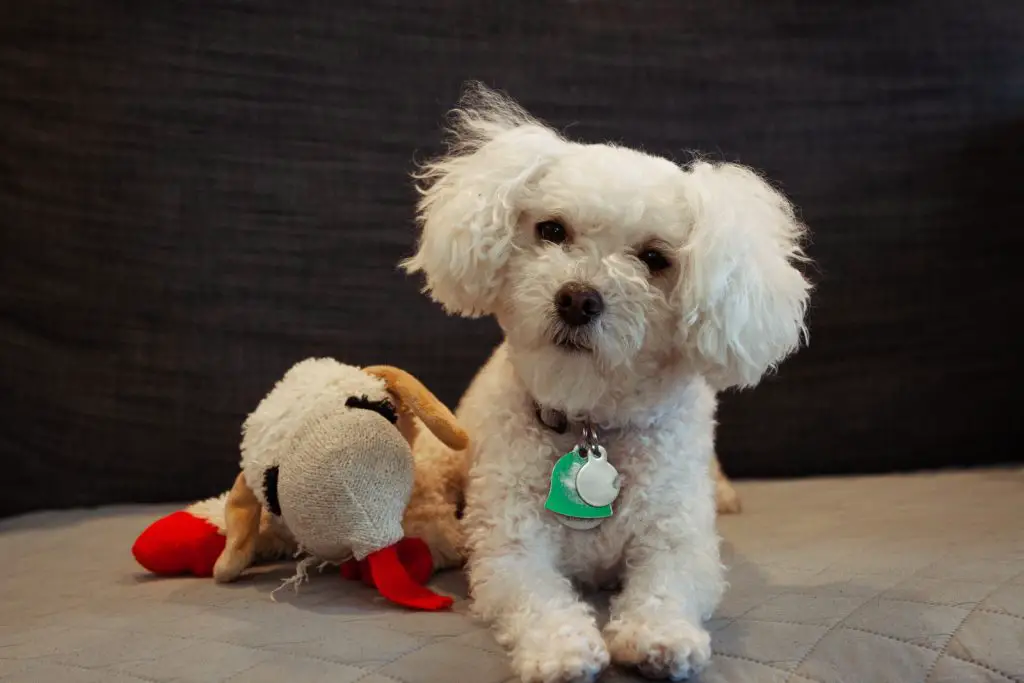 Is There Anything Special About the Maltipoo Diet?
Maltipoos require a nutrient-dense but easily digestible diet. The ideal Maltipoodiet is usually high in protein and low in carbs. Make sure the carbs to protein ratio is lower. At most, the kibble should contain only 40% of carbs in the form of legumes, chickpeas, and wheat. Too many carbs are empty calories and no nutrition, which can be problematic if your dog is gaining weight.
However, all the kibble proteins should be derived from real sources like real beef, lamb, farm-raised chicken, and premium turkey. Fats are also crucial for the little one. Look for high-quality "chicken fat" or credible labels. If the ingredient list says "animal fat" and doesn't specify which one, skip it entirely. The more you know about your dog's diet, the better.
There are important issues like hormonal imbalances and stomach discomfort, which will impact the pup's diet. Hypothyroidism in Maltipoos is a common hormonal disorder that can result in weight gain and even hair loss. If so, you will have to make changes in the diet as preservatives, and artificial additives will only worsen the condition.
You can try dog food from Taste of the Wild or Wellness Core as their formula is grain-free and made with completely natural ingredients. Hormonal disturbances can be gradually rectified with easily digestible kibble and proper nutrition.
To treat hormonal issues, look for dog food with high-quality animal fats like salmon, turkey, chicken, and beef and digestible fiber like veggies and fruits. These provide the foundation for protein, which is essential for hormonal balance.
How Much and How Often Should You Feed Maltipoos?
When feeding your Maltipoo, always stick to smaller but frequent meals. Maltipoos are small and don't do too well when they're given larger meals. Overeating can lead to indigestion and stomach discomfort.
Three meals per day is an ideal amount. Here's a quick breakdown of how much food to feed your dog based on its weight.
2-4 lbs. – Feed anywhere from 1/3 – 1/2 cups daily
4-8 lbs. – Feed around ¾ cups every day
8-10 lbs. – Feed around ½ – ¾ cups every day
10-12 lbs. – Feed up to 1 cup daily
13-16 lbs. – Feed anywhere from a cup to 1 ¼ cup every day
Your pup will need anywhere from 40-55 calories per pound of their body weight. Therefore, an adult Maltipoo that weighs 10 pounds will need 400 calories. A young pup will need more calories during the first year or growth. For older dogs, you might have to adjust their portions according to weight gain or loss.
Stick to three meals a day, preferably a few hours after waking up, one in the afternoon and the other at dinner time. If you wish, you can also add a small snack in between. When it comes to gender, the feeding requirements for both males and females are quite the same.
What Type of Food is Good or Bad for Maltipoos?
Dog food for Maltipoos is usually available as dry or wet form or a combination of the two. Here are the pros and cons of each.
1. Wet food for Maltipoos
Wet dog food generally has higher water content and makes chewing easier. Since Maltipoos have smaller jaws, wet food is a reasonable option to increase their appetite and ease digestion. The water content also means greater satiety. However, wet food is even stronger in scent or flavor, which can be overwhelming for picky eaters like Maltipoos.
2. Dry Food for Maltipoos
On the other hand, dry food seems like a good option for Maltipoos in any season. Dry dog food offers small, palatable, and easily chewable kibble that Maltipoos are likely to enjoy. Since their mouths are tiny, their teeth can be often crowded. If they feed on wet food, there are high chances of periodontal diseases as the food is likely to get stuck.
On the other hand, dry food is formulated to improve dental hygiene by removing plaque and cleans the teeth while they're eaten. If your pup prefers dry textured food, you should stick to that only.
3. Combination Dog Food
If your dog doesn't prefer the strong scent of wet food and the rough texture of dry foods, feed him a mix of the two. Add some kibble bites to wet food so that your pup can enjoy the taste.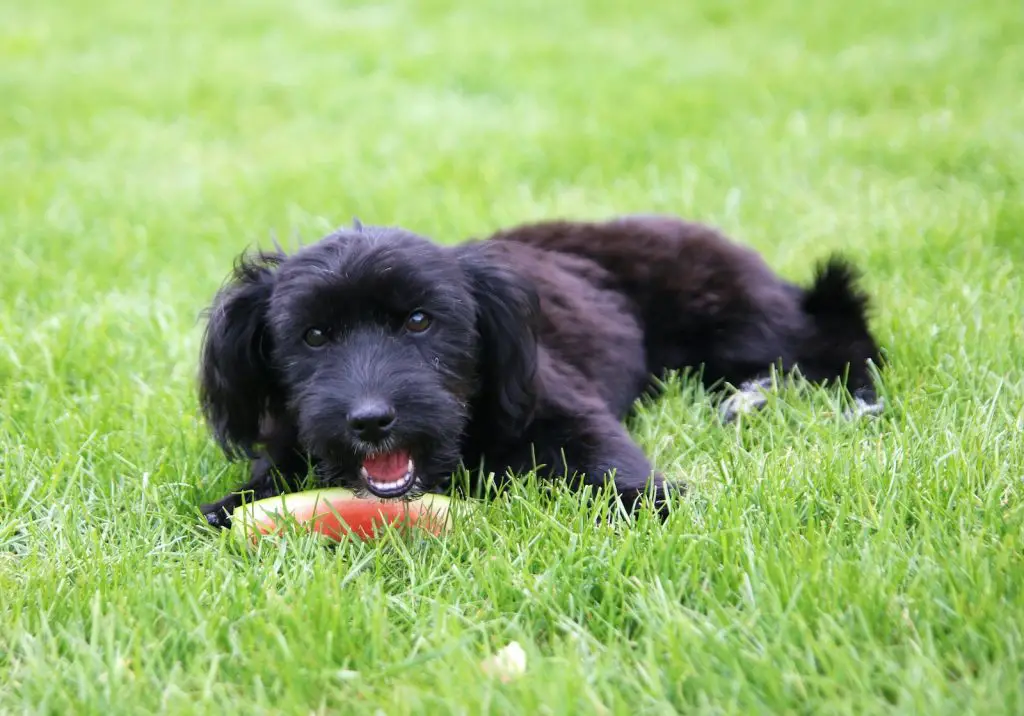 What Ingredients to Look for in the Best Dog Food for Maltipoos?
Many ingredients in the dog food can prove to be beneficial or harmful for Maltipoos. Ideally, the best dog foods are those high in protein. These include high-quality chicken fat, turkey, salmon, lamb meal, and real beef. Proteins are required for healthy fur and skin, speedy tissue repair, and proper muscle development.
Some good ingredients to look for are chicken meal, turkey meal, deboned salmon, deboned beef, ground barley, and oatmeal. They're all high in protein and provide excellent quality animal fats. These are easier for dogs to absorb. They can be used for heart health and to promote healthy hair and skin. You should also look for ingredients high in omega fatty acids like salmon oil, flaxseed oil, EPA, and DHA.
Maltipoos will also occasionally need fruits and vegetables. Dog food with dried fruit pulp is a good example that offers a chockfull of antioxidants in every kibble bite.
What Ingredients to Avoid When Buying Dog Food for Maltipoos?
When it comes to ingredients, you should avoid, soy and corn are the two most common offenders. While they are high in protein, your vet will almost always tell you to leave them out. Again, protein should always come from real sources. Corn or soy may trigger an allergy in your dog.
The other worst ingredients are animal byproducts like ear, hooves, eyeballs, snouts, organs, or bones that provide zero nutritional value to Maltipoos.
Your pup will easily tell you when it likes or dislikes the food. If they don't like it, they will:
Refuse to eat in the food bowl
Spit out the food
Shows disinterest at mealtime
Suffer from stomach issues
Alternatively, if your pup likes the food, they will most certainly:
Chew faster and finish the food faster.
Won't look other foods to fulfill their nutritional needs
Will look forward to dinner time.
Are Maltipoos Fussy and Picky-Eaters?
Yes, Maltipoos can be quite fussy when it comes to mealtime – unless they like the food. There will be times when they might refuse to eat for several reasons.
If the eating surface is too high or too low for the dog, it might refuse to eat completely. Sometimes, it might eat from a raised bowl on the table and other times right out of a flat plate. It just depends on your pup's mood.
Additionally, the depth and size of the bowl can also ward off the puppy. If the bowl is too large, the puppy will feel overwhelmed and make it difficult to eat from.
These pooches are small and eat little. If you give them large servings, they might throw a tantrum by eating only half or not at all.
Maltipoos don't like the same old and boring food all the time. If it's only eating when you offer tasty snacks, your pup's telling you exactly what he would like to eat all the time. You might want to switch his diet or add more dog treats to make mealtime delicious! 
Scheduling your dog's mealtimes around your routine is not always a good fit. If you feed your pup after returning from a long day at work, it might refuse to eat completely. This is because more than food, it prefers to be bathed or wishes to go to the bathroom.
Deciding on the Best Dog Food for Maltipoos
So, here we are. With the above-listed options for the best dog food for Maltipoos, you can now offer your pup a meal he truly loves. Knowing what to feed your dog and what not to can go a long way in keeping your Maltipoo healthy, active, and resilient for many years.
Remember, always study the ingredients behind the packaging. In the end, you must only choose real and natural ingredients for your furry pal. The guide above will help you find the correct dog food that meets your pup's personal needs. Above all, never compromise on the quality of the dog food you'll be feeding your pooch!
References
Alyssa, and DarnellB. "Appalachian Valley® Small Breed Canine Recipe with Venison & Garbanzo Beans: Taste of the Wild®." Taste of the Wild Pet Food, 7 Dec. 2018, www.tasteofthewildpetfood.com/taste-of-the-wild/grain-free/dog-formulas/appalachian-valley-small-breed-canine-recipe-with-venison-garbanzo-beans/.
Cooper, Carlotta. "7 Best Foods to Feed an Adult and Puppy Maltipoo in 2020." Pawster, Pawster, 17 Jan. 2019, pawster.com/best-maltipoo-foods/.
"CORE Small Breed Small Breed Original." Wellness Pet Food, www.wellnesspetfood.com/natural-dog-food/product-catalog/core-small-breed-small-breed-original.
"Maltipoo Hypothyroidism." PetMaltipoo, www.petmaltipoo.com/maltipoo-thyroid.
Nutritionist. "Taste of the Wild – Appalachian Valley Small Breed Formula Review." Pet Food Reviewer, 27 Apr. 2020, petfoodreviewer.com/reviews/taste-of-the-wild/appalachian-valley-small-breed-canine-formula/.
"Nutro Wholesome Essentials Dog Food: Review: Rating: Recalls." Dog Food Advisor, 12 May 2020, www.dogfoodadvisor.com/dog-food-reviews/nutro-natural-choice-dog-food-dry/.
Nutro. "WHOLESOME ESSENTIALS™ Small Breed Adult Dry Dog Food Farm-Raised Chicken, Brown Rice & Sweet Potato Recipe." The Nutro Company, www.nutro.com/natural-dog-food/nutro/dry/small-breed-adult-chicken-whole-brown-rice-oatmeal-recipe.aspx.
Pinzhoffer, Jane. "Feeding A Maltipoo Puppy – Routines, Schedules And Amounts." The Happy Puppy Site, 29 May 2019, thehappypuppysite.com/feeding-a-maltipoo-puppy/.
"Wet vs. Dry Dog Food: Advantages & Disadvantages." Avoderm Natural, www.avodermnatural.com/blog/wet-vs-dry-dog-food.