When the holidays are coming up, one of the most special presents people can give are pets! Often times our first dog is a present from our parents for a holiday or birthday, and it is only logical that we want to give others the joy of having a dog to cuddle as a present. However, it is important that when gifting a pet it is done in a responsible manner, to ensure that both the new owner and the pet are content with the outcome. If you are looking for the perfect gift to give a dog you already own, you can find some options here!
Make sure the person wants a dog
The first step to take when gifting animals is to make sure the recipient actually wants them! Gifts are usually a surprise, hence the wrapping and excitement of opening the present without knowing what it is. However, when it comes to live animals, it is not the best idea for them to be a surprise. After all, you have to make sure they actually want a pet!
It could be that they have always wanted a pet but it would be really complicated for them to own one at that moment. Maybe the place where they live doesn't allow dogs, or maybe they do want a pet, but of a specific breed and gender. Meaning, they want, for example, a female Golden Retriever. If you are gifting a child that is not your own the dog, speak with the parents first to see if they are okay with it. This is why it is so important to discuss the subject with the person before gifting them the dog.  
Can they take care of the dog?
The second step to make sure that everyone is happy is to make sure that the person can take care of the dog. If the person is impaired or has a disability, it is best to research the type of dog suited for them. If you are gifting someone of older age a dog, maybe a smaller dog would be ideal since they do not have the strength to handle a larger dog. And in this case maybe even gifting them an older dog that is already trained would be better, given that they might not want to train a puppy. If you are gifting a child a dog, make sure they know the right way to treat them and are not too harsh with them to ensure the safety and happiness of both.
It is also important to make sure that they can afford to own a dog, so the dog never lacks what it needs, such as food and water containers, the food itself, a bed, a leash and a collar, etc. As per usual, if gifting it to a child that is not your own, speak to the parents to make sure they can afford to have a dog before speaking to the child.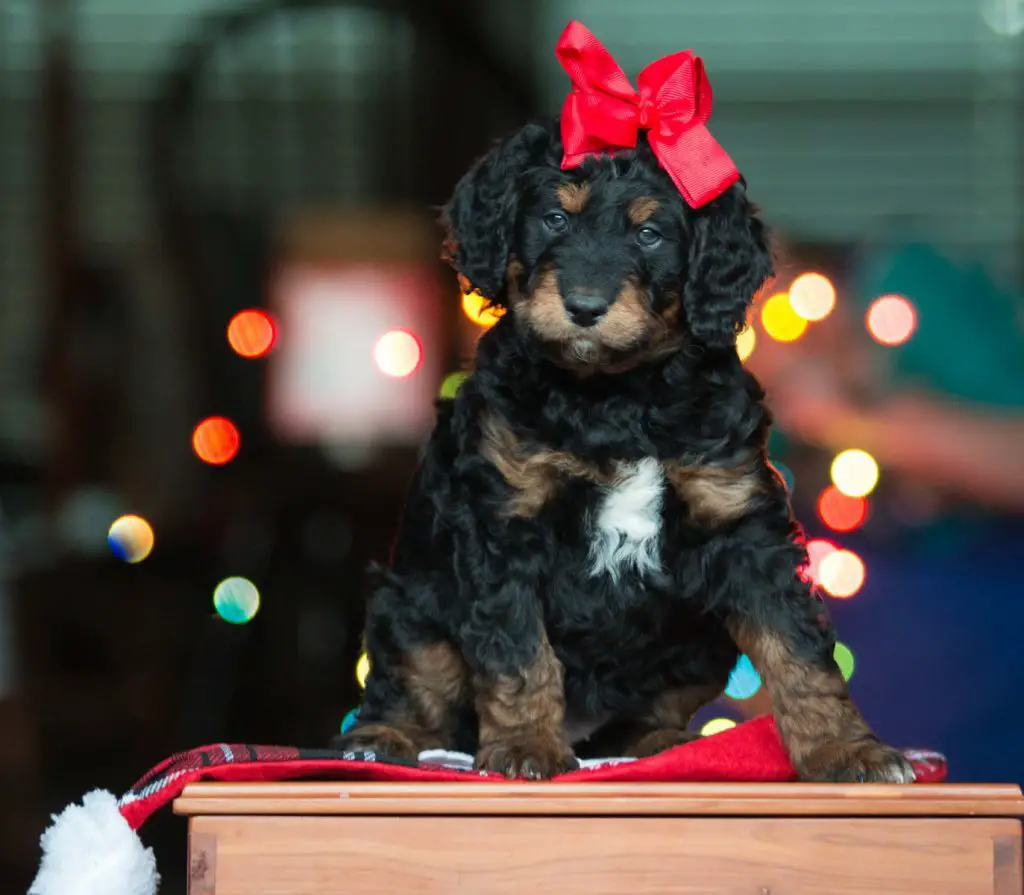 Should it be a Present Under the Tree?
Giving a dog as a gift for the holidays may not be a bad idea, but be sure to think it completely through before purchasing it. Image source: tribunecontentagency.com
Even though gifts are usually wrapped in paper, put in boxes or bags and then placed under the tree for people to open, this is not recommended when gifting a dog. Despite what movies may suggest, poking holes in a box will not suffice for the dog to be okay, even if it is only for a few minutes. They will not be able to get enough air and will feel suffocated in such a small and confined space. Instead, you can simply put a ribbon on their collar and make the person close their eyes and open them to find you holding a puppy! This way the puppy will feel more comfortable.
It is also important to take the ribbon off as soon as possible, given that if the puppy manages to get it off and starts chewing on it unsupervised, they might get pieces of it stuck. Always make sure your pet is safe!
Happy pet, happy life!
Last, but not least, you have to introduce the dog to its new environment properly. This ensures that the dog does not become overly shy, scared or violent in the moment or later on. Let the dog explore its new home and its new owners! Letting it sniff around and familiarize itself with everything is ideal, even if it takes a while before you can play with it. It is also recommended to have food and water ready as well as a toy for the dog to play with its new owners.
If it is an older dog, they might take longer to become confident. If it is a puppy, it will most likely be extremely curious of everything. Either way, they might take a while, but it is important that you let them take their time.
The most important thing during holiday season is to ensure everyone is happy with the result! So enjoy this time with your family and friends, and if you do decide to get a dog for someone, make sure the dog enjoys its time as well! And remember to give your dog as much love as it gives you!