If you have a dog, chances are he or she loves to play with toys. But with so many out there, sometimes it's hard to decide what you should buy. There are many tried and true toys that have been reviewed, blogged, and posted about. You probably even have a few of those toys, and your dog has a blast with them. But maybe you're looking for something new.
Where do you go? And how do you find out which toys are new? If you've tried searching the internet for less than 30 minutes, you might have found a few (Outward Hounds has a full list of their newest products quickly found by searching "New Toys 2018"). For the most part, though, you need to slog through a bunch of web sites and Facebook pages.
In this blog, I have listed eight of the best toys I've found that have been released in the past year. They are all available on Amazon.com, and I've included the link, so shopping for them is easy! Most of them can also be purchased at other popular online pet stores or in store at Petco and DogSmart.
The benefit of getting a newer toy on the market is that usually they are made with better materials and more research has been done to improve the durability and designs. And if you're anything like me, you get just as excited about the fun new dog toys as your dog!
Make Giving Trixie a Treat A Playful Experience
Dogs love treats and playing! These toys combine the two to make it double the fun. They also provide mental exercise for your dog, which is an important part of your dog's overall health and happiness.
Sale
Nina Ottosson by Outward Hound Dog Smart Orange Interactive Treat Puzzle Dog Toy
BEGINNER DOG PUZZLE: The Dog Smart by Nina Ottosson is a level 1 interactive dog puzzle toy that will prepare your pup for more challenging games with simple one-step actions. Suitable for any breed and size.
ENGAGING & MENTALLY STIMULATING: This interactive dog puzzle features 9 hidden compartments that are covered by 9 removable dog bone pieces. Hide your pup's favorite treats in the compartments and elevate the bone for an easier grab or leave them flush with the board for increased difficulty. Watch as your dog learns to nudge and paw away the bones to reveal the reward!
REDUCES BOREDOM & DESTRUCTIVE BEHAVIOR: The Dog Smart interactive dog treat puzzle provides your pup with a fun and rewarding game that can help redirect destructive behavior while supporting their mental wellbeing.
BPA, PVC & PHTHALATE FREE: Nina Ottosson by Outward Hound interactive treat dog puzzles are designed with your pet's health in mind from food safe materials that you can trust. Easy to clean with warm water and soap between uses.
PLAY IT SAFE: No toy is indestructible. Do not leave toys with unsupervised pets. Remove and replace toy if damaged.
Outward Hound's newest treat dispenser is designed by Nina Ottosson, who has been designing interactive treat toys for over 25 years. It's not only fun but exercises your pup's mind. Your puppy will love learning to remove the "bones" to get to the treats. You could even use this is a feeder for meal time for small puppies.
I recommend this product for puppies, as it is a beginner level game. Dogs already playing with more complex puzzles will likely find this too easy for him or her. If your puppy is a more avid chewer, or has a thing for gnawing on bones, this might not be the best toy.
Nerf Dog EXO Ball
Sale
Nerf Dog 5 Inch Durable Treat Feeder Ball for Dogs, Blue/Green
NERF-TOUGH: Nerf-quality materials make our Rubber EXO Ball perfect for fetch and for teaching your dog new tricks
HIGH VISIBILITY: The bright blue/green EXO Ball is easily trackable for both you and your pet, no matter where or how far you toss it
MADE TO LAST: Lightweight, durable, and weather & water resistant
FOR MEDIUM AND LARGE BREEDS: With a 5 inch diameter, this Rubber EXO Ball is ideal for medium and large breeds
SAFETY FIRST: Designed with you dog's safety in mind, each of our dog toys are tested to ensure endless hours of family fun
Nerf Dog has a new treat feeder ball that your dog will want to catch
but probably won't want to release! Fill this ball with some of his favorite snacks, and he or she will be engaged for some time trying to get at them. The high visibility of this ball makes it a great night time toy too!
The Nerf Dox EXO Ball in size Medium is good for Medium and Large dogs. Because it's a Nerf, it's also durable and has a big bounce. Perfect for dogs that like to fetch, or even just play with a ball. There's also a Nerf EXO Bone treat dispenser, if your dog prefers the bone shape.
Give Chester Something to Chew On
West Paw Echo Collection Zwig Dog Toy
WEST PAW Zogoflex Echo Zwig Squeezy Dog Fetching Stick – Bouncy, Hollow, Squishy Interactive Toy for Puppies, Large Dogs – Floatable Stick, Lightweight Chewy Toy for Catch/Fetch – 13.75", Eggplant
DURABLE DOG STICK TOY FOR PETS WHO LIKE TO FETCH: Delight dogs in all stages of life with this dog fetching stick toy that is bendy, squishy and easy to grasp or hold between paws.
LIGHTWEIGHT PET PLAY TOYS: Play fetch and interact with your canine companion during pet exercise with this lightweight squeezy dog stick toy that is fun to throw and features a hollow center for persistent chewers.
AIRBORNE FLYING PET TOYS: Motivate your furry friend to run hard and play hard with this dog stick toy that is lightweight and flings far into the air for canines to catch and chew. As a safe alternative to sticks, this dog stick toy won't damage the inside of the mouth or splinter.
FDA-COMPLIANT DOG TOY: Provide man's best friend with dog toys, such as the dog tug stick toy from West Paw, that is FDA-compliant and latex free. This recyclable puppy chew toy also includes a manufacturer Love It Guarantee against damage.
DISHWASHER SAFE DOG TOYS: Easily clean this dog tug stick toy for chase and fetch games by adding it to the top rack of your dishwasher. This dishwasher-safe dog tug toy is free from toxic materials and Made in the USA.
I love the shape of this toy! It's perfect for either one dog to gnaw on, or for two to tug. It's hollow in the middle, making it pliable yet durable. If your dog likes the "whoosh" of air compressing, that's a bonus for this toy. It's dishwasher safe, too. The Zwig has three colors to choose from – Eggplant, Jungle Green, or Melon.
This is a perfect toy for moderate chewers and tug lovers, and pet parents that want something easy to clean. I don't recommend it for aggressive chewers. It's sized for Medium, Large, and Extra Large Breeds.
Outward Hound Tough Skinz Cobra
Outward Hound Invincibles Tough Skinz Cobra Tug Squeaky Dog Toy, XL, Multicolor
COLORFUL PRINTS – Features realistic cobra snake skin print
SQUEAKS & RATTLES – Includes 5 Invincibles Squeakers & 1 fun rattle
NO STUFFING – This dog toy stuffing free for less mess & more fun
CHEW SHIELD – An extra layer of durable material to create an inner protective shield
DURABLE SEAMS – Stitched seamz add an extra layer of strength
Look no further than the Tough Skinz Cobra if you have an avid chewer. This toy is bright and squeaky, which dogs love! There are 5 squeakers, and they are less likely to lose their sound when punctured than most squeakers.
A rattle is included as an extra entertaining noise. It's made of sturdy material, and the stitching is extra strong. Plus, there is no stuffing so if it does come apart, there's less mess. The Tough Skinz Cobra comes in red tones and green tones. There's also the Skinz Rattlesnake, which is smaller and has 3 squeakers.
The Tough Skinz Cobra is good for more aggressive chewers. In my experience, though, even the most well-made product can get destroyed. But this toy should last longer for most chewers than other toys.
Make a Splash with Winston's Water Play
If your dog likes to swim, or if you want to help entice your pup into the pool, these toys are made for the water.
Outward Hound Floatiez– Narwhal
Sale
Outward Hound Floatiez Narwhal Floating Interactive Dog Toy, Large
SPLASHING FUN: Improve your pup's pool time with Floatiez dog pool toys! Great for pools and lakes, these pool toys help your dog have more fetching fun in the water.
FLOATS & BOBS: Unlike other dog pool toys, Outward Hound Floatiez float upright in the water helping your dog fetch with ease every time they play with them.
INSPIRED BY THE SEA: Each Floatiez pool toy was designed and inspired by the friendly characters of the sea! Made with bright colors and playful patterns, these toys are easy to spot in the water and on land.
SILLY SEA SOUNDS: Outward Hound Floatiez make silly sounds to keep dogs excited and engaged in water fetching fun. Made with a squeakin' spikey ball inside, our Floatiez Puffer Fish is perfect for toss and fetch water fun!
MULTI-SEASON PLAY: The fun doesn't have to end when summer is over! With brightly colored fabric that's easy to see, these silly sea creatures are also great for playing in the snow. Hooray for snow days!
Outward Hound has a new line of Floatiez that, you guessed it – float. They are super buoyant so will stay floating while your dog tries to catch and play with them. When shaken, it emits a giggle that's sure to make your dog smile.
The Floatiez are in bright colors and multiple styles, including a Starfish, Narwhal, Jellyfish, Stingray, and Turtle. I like them all, but I think the Narwhal is especially cute.
This toy can be played with outside the water, too. It's not really for super-chewers but should be durable enough for moderate chewers and a good amount of pool time.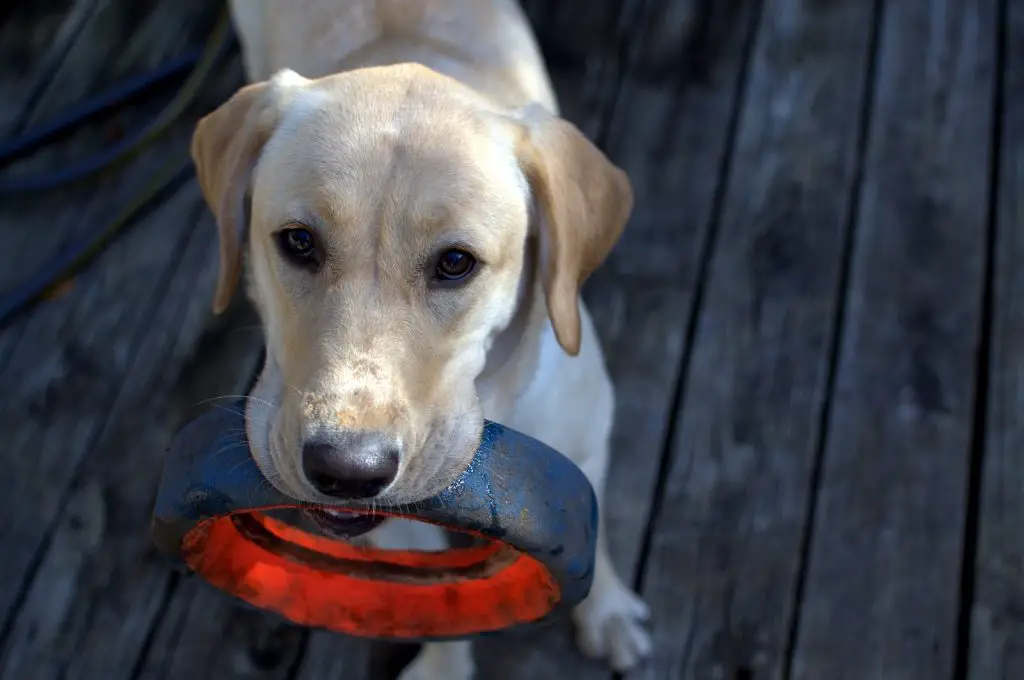 Play Ball with Bingo
Last, but not least, is the much-loved ball. Balls can keep many dogs entertained for hours!
KARMAS Interactive Ball Launcher
I don't know about you, but sometimes my arm gets tired way before the dog is done playing fetch. Or, I'm too busy to play if we'd both like. Enter the automatic ball thrower! There are several on the market, but KARMAS Interactive Ball Launcher is one of the newest and has promising reviews.
It uses small balls (smaller than tennis balls), so is good for smaller breeds. Like with all automated machines, things can go wrong. I would recommend you monitor your dog while he or she is fetching with the ball launcher, unless he or she is well-trained, and won't try to get at it if it turns off or stops working.
This is made for small dogs and some medium dogs, if they have a smaller mouth. It is not suitable for large breeds or dogs with large mouths. It runs on either power or battery, so can be used indoors or out.
Leaps and Bounds Avocado
It's an avocado, but open it, and there's a ball in place of a seed! I really like this toy because not only is it very cute, it provides dual play. Your dog will probably quickly learn to get to the ball, as it's not too challenging, but adds a little extra stimulation. The ball is snug, so for some dogs it may take some work to get to it, which just adds to the fun.
It's good for puppies or if you're looking to give your adult dog a bit of mental exercise to get to the ball. The small squeaker will keep your dog entertained playing with it.
If your dog is a plush and ball lover, or likes to forage, he will run in circles for the Avocado. It's meant for gentle play, so it's not recommended for aggressive, or even some moderate, chewers.
Kong Squeeze Action Ball
Kong does it again with another awesome ball! The bounce is unpredictable, which will have your dog jumping to catch it and for joy. The squeaker will keep him or her engaged in the game. The Kong Squeeze Action Ball is partially transparent and has multiple textures for an added appeal. It comes in small and medium sizes, and in both red and blue.
This ball can hold up to some aggressive chewing, if the size is right. The Kong Squeeze Action Ball is a must have for the dog that likes to bound after balls that bounce.
Whether your dog is a chewer or a chaser, small or big, young or old, there should be at least one toy on this list your best friend will this is toy-riffic! Play on! oh? Remeber to let your kids play with your best friend!