Sweet potatoes originated in the Americas, and they were a staple way back in the 15th century by the time Christopher Columbus arrived. It is believed that he took some along with and by the 16th century even Europe was growing this staple food.
The popularity of this food has grown so much that people don't mind sharing it with their pets. Now, the question arises as to can dogs eat sweet potatoes, especially if you have a dog.
We know you love your munchkin very much and that is why you are worried to know if these tubers are safe for them or not. Alright, let us kill the suspense once and for all by saying yes dogs can eat sweet potatoes. Let us find out more about that in details.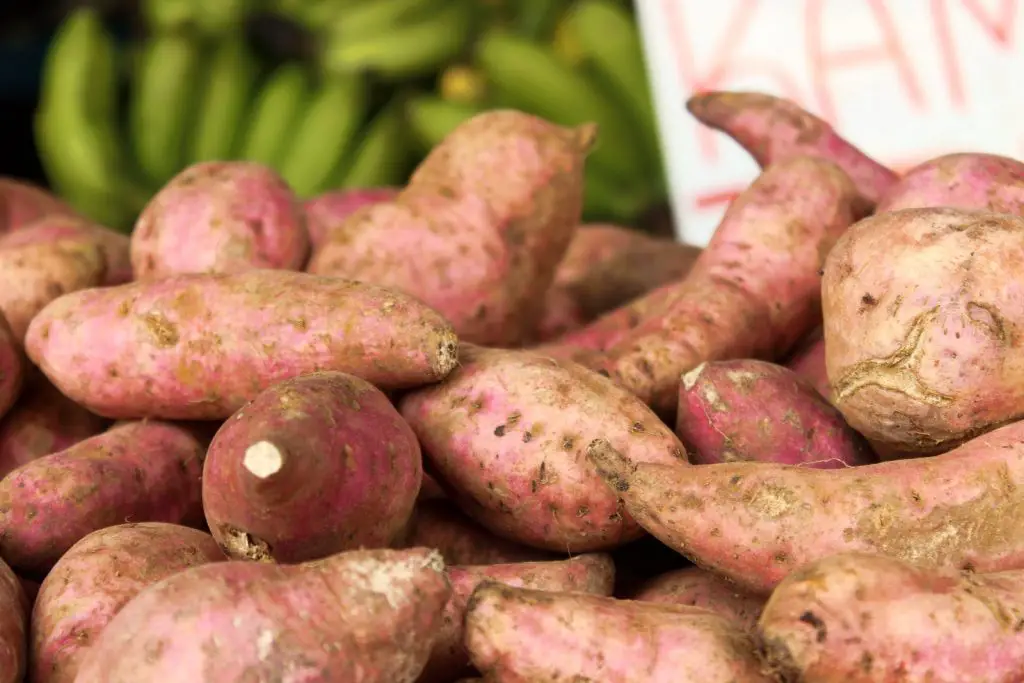 Is it true, Can Dogs Eat Sweet Potatoes?
You will be glad to know that sweet potato are not part of the nightshade family. This means they are safe for dogs in general, but it is advisable that you cook them well and then serve it to them. Nonetheless, avoid giving them unripe sweet potatoes because they are ready to be eaten by anyone, let alone your canine friend. You can also give them dehydrated wedges of sweet potatoes as treats, but remember one thing that you need to keep it under control.
Benefits of Sweet Potatoes
You will be surprised to know that sweet potato have amazing nutritional value. That is right you heard it sweet potatoes are nothing less than healthy food. Unlike the white potatoes, these tubers have nutritional value to them. We hardly talk about this tuber, but it turns out that this is an excellent way to treat your four legged friends. It is not harmful and can be enjoyed as a treat. Many of us may not know about this, but it is true as they contain nutrients like:
You May Also Like- Can Dogs Eat Eggs?
Fiber – They are rich in fiber and contain less fat that certainly makes them healthy. Not to mention, this is good for Lucy's digestion, and this is why they are considered to be a nourishing addition to their diet.
Beta-Carotene – This lends the tuber its orange, gold and yellow color. It converts into vitamin A as soon as it gets absorbed by your dog's body. It needs special mention, which reduces certain cancers risks, protects the heart, reduces chances of night blindness and keeps the skin healthy.
Minerals – These tubers are rich in potassium, magnesium, manganese, calcium, zinc and iron. However, they are low in sodium, and that makes it a perfect choice for Tommy. It has to be added that potassium can keep up with the proper functioning of muscles and nerve transmissions. It can also maintain the fluid balance in the body which is another add-on.
Other nutrients – Besides all these they also contain vitamins B6 and C that add value to the vegetable.
How to feed them sweet potatoes?
Steam, boil or even bake them, and that should answer the inquiry can dogs eat baked sweet potatoes. This means sure that you cook the sweet potatoes before serving it to them. You can also mash the sweet potatoes with a spoon before feeding it to them as that will help them eat and digest it easily. You are free to make your recipe that pooch may love to gorge on. You can also feed your beloved with dehydrated treats at times, but that should be done in moderation only.
Run a check
Even if you know that they are safe, you should ideally run a poop test while feeding them with tubers. There is no harm in keeping them under observation for a day after feeding them with sweet potatoes for the very first time. See if they show signs of diarrhea or throw up because of digestive upset. If things go out of your control, then consult a vet immediately. There is nothing better than that, and you know that you have done the right decision when things look unusual.
Can Dogs Eat Sweet Potatoes Raw?
No, I would deny sweet potatoes feeding raw to your pooch. Raw sweet potatoes can cause intestinal blockage to your pooch. Just steaming or boiling the sweet potatoes will not take your busy schedule. Hence, for the welfare of your pooch try steaming the sweet potatoes before serving your doggy. You need not make some spicy, red-hot recipes for your pooch, just steam them with a pinch of salt and turmeric powder, your doggy would get crazy for sweet potatoes.
You can smash the boiled sweet potatoes for your pooch to make the digestion lot easier. As mentioned, for sure your pooch will produce loose stools on eating sweet potatoes, but make a run and look whether it's diarrhea or stomach upset. Sure, your pooch will love the sweet potatoes, but not in raw form.
Can Dogs Eat Sweet Potatoes Fries?
Why not? For sure, your pooch can enjoy sweet potato fries, but with no onions, garlic or spices. Just add some butter or cheese to toast the sweet potato tubes. Don't add too much of oil or fat to fry the sweet potatoes required for the pooch. Keep the sweet potato diet in moderate as they are a pack of starch, carbohydrate, and sugar, should be served within prescribed limits. Fry the chopped or diced sweet potatoes with cheese or butter. Golden fry the sweet potatoes and then serve them with homemade tomato or apple sauce.
Yummy treat for your pooch! Why not try the sweet potato fry on Thanksgiving day for your pooch?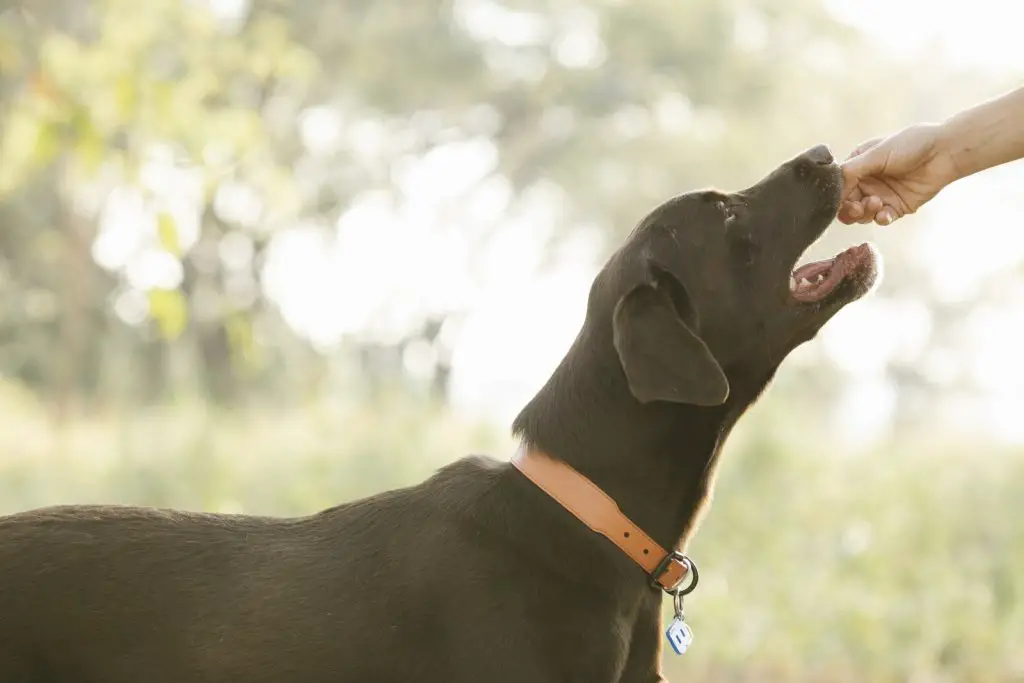 Can Dogs Eat Sweet Potato Chips?
Yes. But homemade sweet potato chips. Chips are made of dehydrated potatoes and hence lack water content. Why not try some sweet potato fries, instead of chips? Commercial Sweet Potatoes are highly dangerous to pets as they may contain added salt and flavors.
The too much of salt content may cause bloat, pancreatitis and blood pressure increase on your pooch. Hence it's better to avoid sweet potato chips. If you wish to share some of your snacks to the pooch, then offer only one or two. After, providing the snacks provide two glasses of water to help digest the chips taken. The two glasses of water can protect your pooch from stomach upset or blockage in GI tract.
Try serving sweet potato fries without onion, garlic or some other commercial flavors. If your pooch is irresistible falling in love with sweet potato chips, then offer only one or two slices.
Can Dogs Eat Sweet Potatoes Mashed?
Of Course, mashed sweet potatoes do favor your dog's digestion. Too much of starch at the same time can obstruct your doggy's digestive tract. Sweet Potatoes are a rich source of dietary fiber, and hence much of mashed potatoes is not prescribed a diet. Please make a note, that mashed potatoes are safe for dogs if at all you prepare them at home with no salt, milk and other forbidden ingredients!
Steam the sweet potatoes and then mash it up for your pooch diet. The mashing of sweet potatoes makes the process of digestion easier for your pooch. You can serve it as training snack or mash them and spread it upon meal. You can also fry the chick, meat or fish with mashed potatoes as a layer. Paste the mashed potatoes as a flavor on the meat and then fry the meat in butter or cheese. Your pooch will love the flavor and becomes healthy with new sweet potato, meat recipe.
Do you know? Many commercial dog food manufacturers add sweet potatoes as one of the ingredients to meet the nutrition needs of dogs. Hence you may include it in your dog's meal plan without any chaos.
Can Dogs Eat Uncooked Sweet Potatoes?
Oh! My dog eats uncooked sweet potatoes from the farm! What can I do? Just leash your pooch when you are out! Yes, you must not serve or allow your dog to eat uncooked sweet potatoes. As the outer skin of sweet potatoes may contain bacteria, viruses, and other parasites. Hence never ever allow your pooch to consume sweet potatoes from the farm or uncooked.
You must clean all the table scraps before leaving your dog at home while you step out. The manners keep your pooch happy forever with a healthy life. Your pooch as you know eats everything as he like. When dogs consume more sweet potatoes, it may increase the blood sugar levels abruptly!
Obviously, your next question is….
Can Dogs with Diabetes Eat Sweet Potatoes?
Sure, but not often and as you like. If your doggy suffers from diabetes, then it's better to serve sweet potatoes, only once in a week in moderation. One or half slice of sweet potatoes can meet the nutrition needs of diabetic dogs. Too much of sweet potatoes is very dangerous to diabetic dogs, as they are a power pack of sugar, starch, and carbs!
Can Dogs Eat White Potato?
Your pooch can safely eat white potatoes in moderation. But, not to be fed as raw. Only cooked or smashed white potatoes are ok for dog's health. Raw potatoes may contain solanine, a toxic substance present in peels of potatoes. Hence the steaming or frying may help remove the toxicity levels in potatoes which make it perfect edible treat for your pooch.
Serve sweet potatoes only as a treat, not as a meal plan. Always, veggies must be shared with your pooch only in moderation and the potatoes are not exceptional cases on this myth!
Can Dogs Eat Yams or Sweet Potatoes?
Go with sweet potatoes instead of yams! Yams always make a mystery while served to your dogs. They are rich in dietary fiber, and many dogs dislike yams. Yams produce more lucy stools while compared to sweet potatoes. Sweet potatoes do produce loose stools on your pooch but at acceptable levels.
Yams and Sweet Potatoes are said to be cousin families. Our pooch only loves sweet sister than yam. Hence serve sweet potatoes to your pooch once or twice in a week and not more than that. The prescribed limits of sweet potatoes do not differ any dog breeds. Did I answer your next query of "how often should I serve sweet potatoes to my dog or can my dog eat sweet potatoes daily?"
Serve sweet potatoes to your pooch in moderation and experience the healthy lifestyle with your pooch!
Can Dogs Eat Sweet Potatoes Skin?
Yes, dogs can have the skin, and you will be astonished to know that sweet potato skins are nutritional too. So, you can feed them the skin without thinking twice, but once again moderation will do wonders. Anytime you feed them with sweet potatoes or its skin, remember to do it within a limit. Stick to the thumb rule that of feeding them tubers occasionally only. Over feeding dogs with tubers can wreck havoc on their health and you surely don't want that.
A word on moderation
Now, that you know so much about sweet potatoes, you may be thinking of feeding them with these tubers every other day. Our advice would be otherwise, as feeding them with sweet potatoes once in a while can be beneficial and should be avoided the long term. This is because sweet potatoes also have carbohydrates and we all know by now that too much of carbs is not good for health. Your Furball is no exception to this and keeps it in moderation for best results.
You May Also Like- Can Dogs Eat Applesauce?
This is a fact that white potatoes are low cost, but sweet potatoes are a healthier option. So if you are looking for this to resolve to this query can dogs eat sweet potatoes, then you must have found all of that by now. What remains most important here is that you would like to feed your coochie coo with nutritious food. White potatoes contain too much of carbs and sugar. This may cause obesity and sugar in them in later stages.
This is one reason why dogs are best advised to keep off potatoes. Whereas, feeding them with boiled or steamed sweet potatoes instead of baking them can be a good alternative. Hope you have liked our post today and we would like to hear from you as that will inspire us to compose many more interesting posts like this.