Poodles are known for being proper, regal, and smart. If you're looking for a fiercely loyal dog, a toy poodle is what you need. With their adorable playfulness and curly hair coat, they are every dog owner's favorite breed. Choosing the best dog food for toy poodles is the best way to keep your pet healthy and fit.
Looking after their nutrition and ensuring they get a balanced diet is crucial. Your playful pup needs high-quality dog food that keeps it thriving, strong, and healthy throughout the day. You might think, as a small breed, toy poodles can be fed just about any type of dog food.
However, despite being miniature breeds, toy poodles have particular nutritional needs.  If you're wondering what the best dog food is for toy poodles, then read on to find out!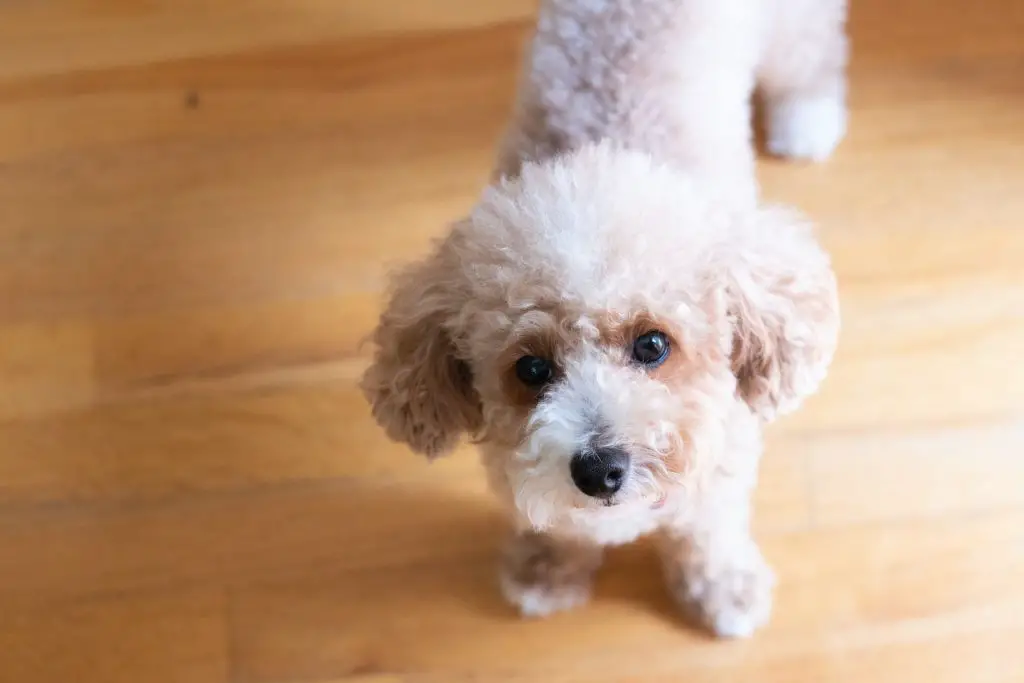 Royal Canin Poodle Adult Dry Dog Food
Royal Canin Poodle Adult Breed Specific Dry Dog Food, 10 lb bag
FORMULATED FOR PUREBRED POODLES: Royal Canin Poodle Adult Dry Dog Food is designed to meet the nutritional needs of purebred Poodles 10 months and older
SPECIALIZED KIBBLE: Unique kibble design helps Poodles easily pick up and chew their food
HEALTHY COAT: Helps provide skin support and coat care with EPA and DHA fatty acids from fish oil and precise protein levels for healthy skin and coat
MUSCLE SUPPORT: Precise protein content maintains muscle tone and supports a mid size breed's strong build
HEALTHY AGING: Adult dog food formulated with exclusive blend of nutrients supports vitality and healthy aging during their long life span
The perfect dog food for your regal and healthy dog – the Royal Canin Poodle Adult Dry Dog Food – is packed with nutrients, vitamins, and minerals. Specially made for miniature poodles, most of the content of this dog food comes from its high protein sources.
Made from chicken, corn, rice, and gluten, this dog food is made from nearly 28% protein. This ensures that your pup gets to grow stronger, leaner, and healthier muscles. The formula also consists of DHA, which is a potent anti-inflammatory nutrient that ensures healthy mental development.
This kibble is perfect for toy poodles as it nourishes and builds their minds at a very early age. Above all, the ingredients are enriched with healthy fish oils. They are quite promising for giving toy poodles a super-soft, healthy, and luscious skin coat.
When it comes to the essential vitamins and minerals, Royal Canin truly takes the lead. Packed with vitamin D3 for healthy bones, vitamin B12 for healthy blood, vitamin E, and Biotin, this dog food is the best option for your growing poodle.
The shape of the kibble is small and easy to chew. It's made explicitly for miniature breeds as it helps their jaws to chew down the kibble and maintain dental health. 
Solid Gold Wee Bit Bison & Brown Rice Recipe Small Breed Dry Dog Food
Solid Gold Small Breed Dog Food – Wee Bit Whole Grain Made with Real Bison, Brown Rice, and Pearled Barley – High Fiber, Probiotic, Natural Dry Dog Food for Small Dogs with Sensitive Stomachs – 12 LB
For Your Wee Little One! – Solid Gold Wee Bit is a natural, craveable, and potato free dry dog food formulated to support gut, immune, skin, and coat health for small dogs of any age or breed.
Probiotic Support for Digestion & Immunity – This dog food features prebiotic fiber and patented probiotics for digestive health, balanced gut flora and bacteria, and immune support for small dogs.
Premium Ingredients & Zero Filler – This natural dog food is made using pasture raised USA bison, along with fiber, protein, whole grain, salmon fish oil, brown rice, and pearled barley in every bite.
Best Support for Pet Wellness – This healthy kibble formula includes superfood, antioxidants, and omega fatty acids that support skin, coat, and immune system health for pet dogs.
Craveable Flavor & Easy on Teeth – This gluten free kibble was designed with care for small mouths to help little dogs chew with ease, and comes in a mouthwatering flavor that your dog will crave!
The second best dog food on our list is the Solid Gold recipe for small breeds. This dry dog food has a notable formula made of bison, brown rice, ocean fish meal, chicken fat, and oatmeal. Packed with proteins, fiber, and complex carbs, this dog food offers holistic nutrition for your toy poodles.
The formula contains flax seed for healthy omega-3 fatty acids. Together with fish meal, this dog food ensures a healthy, smooth coat and strong muscles. With salmon oil, fruits, and vegetables, your pet is going to get a diet rich in antioxidants.
This dog food is specially made for growing toy poodles that need a consistent source of protein, fiber, and nourishing vitamins. It also contains whole grains and fresh bison protein, a rich and high-quality source of nutrients for your small poodle.
It also contains healthy fats like vitamin E and salmon oil that will nourish the skin coat and promote healthy fur. The dog food is also a unique blend with nearly 20 excellent super foods, including fried kelp, blueberries, watercress, and so much more.
If your toy poodle is growing, this is the best dog food to give them. High in whole grains, fresh proteins, and immune-boosting super foods, Solid Gold has outdone itself!
Iams ProActive Health Adult MiniChunks Dry Dog Food
IAMS Adult Minichunks Small Kibble High Protein Dry Dog Food with Real Chicken, 30 lb. Bag
Adult Dry Dog Food: Give your dog the nutrition they need in the small kibble size they prefer, with real, farm-raised chicken as the first ingredient to promote strong muscles with premium-sourced protein
Veterinarians Recommend IAMS: This tasty kibble supports healthy digestion with a wholesome blend of fibers and prebiotics, plus antioxidants to support a strong immune system
Complete and Balanced Nutrition for Adult Dogs: IAMS Dog Food is made with high quality animal protein and no artificial preservatives, flavors or fillers, for complete and balanced nutrition
Tailored to Your Dog: We carry a full line of foods for your dog's age, size and dietary needs from puppy to adult to mature, small breeds to large, and with recipes to support healthy weight and digestion
IAMS Super Premium Dog Food: Choose the nutrition that brings out your dog's best, tailored for their unique needs; Our high-quality, premium recipes are made in the USA with the finest ingredients from around the world
Super-crunchy and delicious, Iams ProActive mini-chunks are just the right-sized kibble for miniature breeds. This dog food is packed with protein from fresh chicken and eggs that will help your pet build stronger and firmer muscles.
The formula contains ground whole grain corn, chicken, eggs, flax seed, and dried beet pulp. While these are the main ingredients, this dog food is rich in calcium, vitamin E, and crucial minerals that toy poodles need for healthy bones and skin. It also has a special amino acid called L-Carnitine, which helps metabolize food and boost the immune system of small breeds.
The dog food is rich in antioxidants to help your poodle fight inflammation and diseases. It also contains a gentle fiber source that won't cause an upset stomach or bloating. If your poodle is sensitive to corn or soy, you should give these mini-chunks a try.
Moreover, the kibble is small and has a palatable texture that will make mealtime a favorite occasion for your poodle. The kibble is easy on the poodle's teeth. It chews and digests well. Since the dog food is dry, it also helps in scrubbing away tartar or plaque caught in the dog's teeth. For this reason, the kibble is also an excellent option to evade bad breath.
NUTRO ULTRA Small & Toy Breed Adult Dry Dog Food 
NUTRO ULTRA Adult Small Breed High Protein Natural Dry Dog Food with a Trio of Proteins from Chicken, Lamb and Salmon, 4 lb. Bag
Contains one (1) 4 lb. bag of NUTRO ULTRA Small Breed Adult Dry Dog Food with a Trio of Proteins From Chicken, Lamb and Salmon
Features trio of protein from chicken, lamb, and salmon—chicken is the ingredient—specially formulated for small breed adult dogs
Our premium dog food kibble is made with high-quality ingredients and provides complete and balanced nutrition for small breed adult dogs in every bowl
Protein rich NUTRO ULTRA Dry Dog Food is made with high-quality protein and our blend of 15 vibrant superfoods, like coconut, chia, kale, blueberries, and other quality ingredients
Made with no chicken by-product meal, corn, soy, or wheat, and no artificial flavors, colors, or preservatives
Nutro Ultra Small Breed Dry Dog Food is a clear winner for toy poodles. If you're looking for a dog food that's specially designed for muscle development, then this is it. The formula is a rich blend of lean proteins, whole grains, and healthy fats that help build muscle, encourage strong bones, and luscious coats.
The feed tastes wonderful as it's made from natural, holistic ingredients like brown rice, chicken meal, rice bran, pea protein, and salmon meal. If your dog has a sensitive tummy, you can safely feed them this as this dog food is free of soy, gluten, and corn. It only contains healthy whole grains like oatmeal and brown rice that offer a boatload of gentle fiber.
Nutro Ultra also ensures that your poodle gets healthy fats like coconut oil and sunflower oil to ensure healthy skin and a strong immune system. This dog food is a rich blend of fruits, vegetables, and pure vitamin extracts that boost the immune system and ensure a longer life.
This is the perfect option for miniature breeds if you want your dog to live his best life. Providing 100% balanced nutrition, this dog food is both delicious and palatable.
Eukanuba Small Bites Adult Chicken Formula Dry Dog Food
Eukanuba Adult Small Bites Dry Dog Food, 30 lb
COMPLETE AND BALANCED: Eukanuba Adult Small Bites Dry Dog Food is complete and balanced nutrition for small and medium breed dogs that are 12 months or older, weighing up to 54 lbs, and have a smaller muzzle or prefer a smaller kibble
MUSCLE & JOINT SUPPORT: A combination of animal protein, glucosamine, and chondroitin sulfate promotes lean muscle development and joint health in active adult dogs
HEALTHY BRAIN FUNCTION: DHA and vitamin E help keep dogs sharp and support healthy brain function
SUPPORTS ACTIVE DOGS: Optimal levels of fats and carbohydrates fuel an active lifestyle
DENTAL HEALTH: 3D DentaDefense maintains dental health by helping reduce tartar buildup
This formula introduced by Eukanuba offers a balanced, holistic diet with plenty of health benefits for your toy poodle. With lamb as its main source of protein, the Eukanuba formula is perfect for small breeds. It also consists of a healthy chicken meal for an added dose of protein and vitamins.
The formula contains two of the most important nutrients for strong bones and joints – chondroitin and glucosamine. With a healthy fiber-rich blend, the formula contains prebiotic FOS and beet pulp that delivers a gentle and consistent dose of fiber. The dog food is also rich in omega fatty acids to encourage your poodle's healthy skin coat.
Above all, this dog food is enriched with 3D DataDefense, which helps reduce plaque and tartar buildup in small dogs. Their jaws can easily chew the small-sized kibble as it scrubs away the dirt stuck on their teeth. Ideal for improving healthy gums and clean teeth, this dog food is terrific for toy poodles.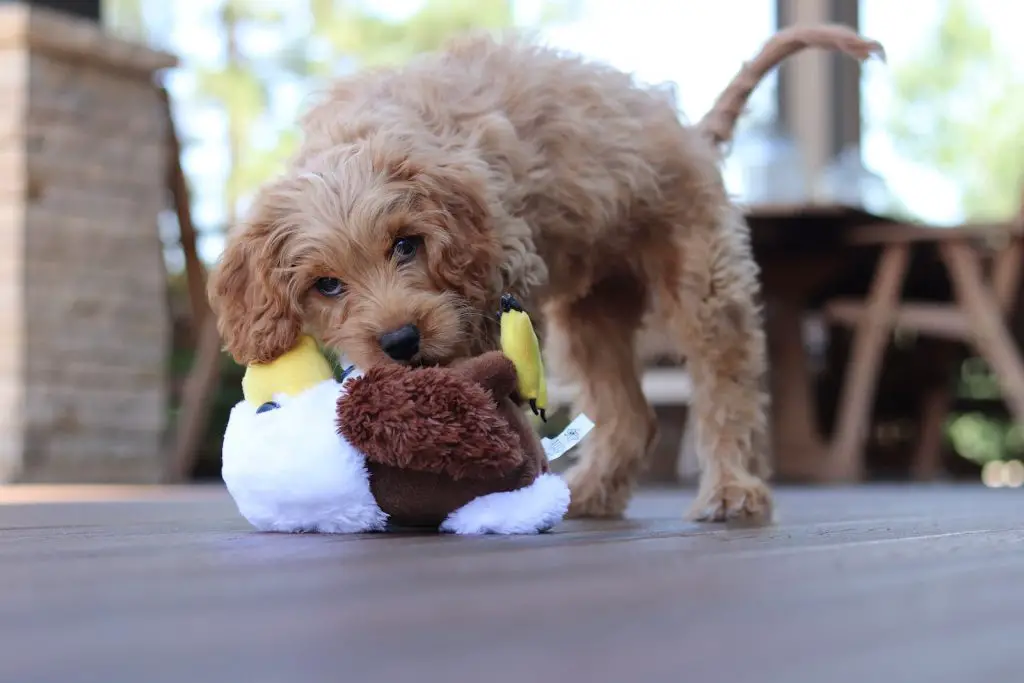 Is There Anything So Special About the Toy Poodle Diet?
The poodle is generally prone to many digestive problems because of which it needs a specially formulated diet. Here are some issues you need to be mindful of when it comes to the Toy Poodle diet.
Toy poodles can get stomach cramps, bloating, and flatulence. If you're feeding them a diet high in grains or potential allergens like corn or soy, they are likely to get an upset stomach. The condition can worsen and turn to Irritable Bowel Syndrome (IBS).
If your poodle experiences stomach cramps, they might try to isolate themselves and not be touched. Even bloating can be discomforting, which is why always choose a feed that contains a gentle fiber formula.
Excessive shedding can happen in toy poodles as well. It's usually because of an allergy. In most cases, it could be pollen allergens. However, poodles can be allergic to eggs, chicken, and lamb. Make sure to introduce these foods slowly and gradually.
If your dog shows signs of upset stomach or hair loss, there might be a potential allergen in the dog food. In that case, switch to a different brand.
Cushing's Disease is a common malfunction in dogs, and your poodle is also vulnerable to it. In this condition, the adrenal glands begin to malfunction and produce too much steroid hormone. If you think your dog has this problem, it's best to feed your pup a diet that reduces stomach irritation.
If their digestive system goes out of whack due to an allergen or whole grains, their condition can aggravate. Oatmeal, brown rice, and fruits are good ingredients to look for.
How Much to Feed Your Toy Poodle According to Age?
If your dog is only 3 months old, you should feed him at least 4 meals a day as he is in his growing phase. For poodles that are 6 months of age, 3 meals a day is a good amount.
Toy poodles above 6 months do well when they're fed 2 meals a day. Once your dog reaches adulthood, feeding him 2 meals a day will keep your pup healthy and fit.
How Much to Feed Your Toy Poodle According to Weight?
Here's how much you should feed your toy poodle according to their weight.
If your poodle is only 3 lbs., feed them at least 3/8- 1/2 cup a day
If your poodle is 10-20 lbs., feed them anywhere from 3/4- 1 cup a day.
If your toy poodle weighs 30 lbs. feed them at least 1-2 cups every day
If your toy poodle weighs between 40-50 lbs, feed them 2-2 ¾ cups daily
What Type of Food is Good or Bad for Toy Poodles?
Choosing the right type of dog food for your toy poodle is very important. Here are the pros and cons of each type of dog food.
Wet dog food generally contains more water, which is why it's also a good hydration source for toy poodles. However, wet food is also likely to get stuck in your pet's teeth. This can likely lead to plaque and tartar buildup. In this case, make sure to limit wet food to twice or thrice a week.
Dry kibble is one of the best options for toy poodles. Since they have small jaws and smaller teeth, it's best to give them dry food. This is because, in addition to providing nutrition, the dry kibble scrubs away the dirt, tartar, and plaque on the teeth. This helps in dental hygiene and holistic nutrition.
If your toy poodle has an upset stomach or bloating due to feeding too much dry kibble, you can try moistening it with bone broth or fruit juices. Alternatively, you can feed your pet a combination of both dry and wet ingredients in the week. Combination food will help your pet in digesting all the food easily and benefiting from the nutrients.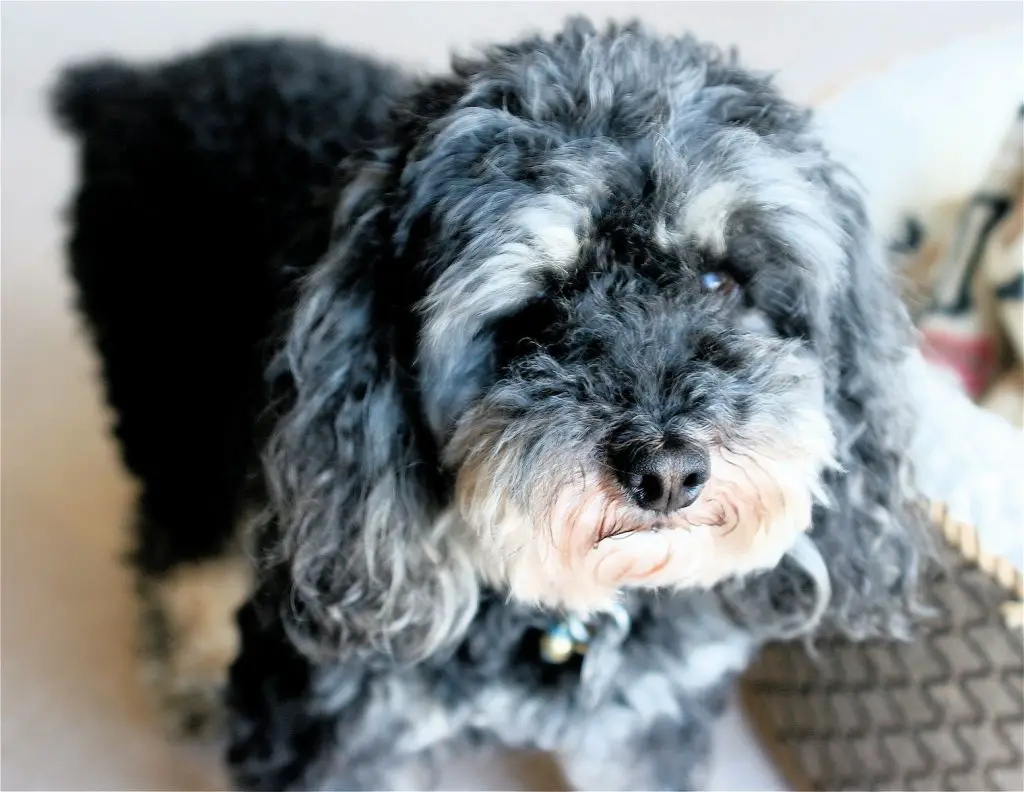 What Ingredients to Look for in the Best Dog Food for Toy Poodles?
Just like every other dog breed, toy poodle also needs a holistic, well-balanced diet. This should include a decent amount of proteins, healthy fats, carbs, fiber, fruits, and vegetables. Here are some of the best ingredients to look for in dog food for toy poodles.
Chicken, turkey, and duck are wonderful sources of lean protein for your toy poodle. They are digested easily, filling, offering a bunch of vitamins, and nourishing your toy poodle. Above all, they help in muscle development.
Lamb meal is a rich source of protein and essential amino acids that toy poodles need for healthy skin coat and proper muscle development.
All the ingredients related to fish like salmon, salmon oil, cod, fish meal, or haddock are excellent sources of lean protein for toy poodles. They are very gentle on the digestive system and offer a good dose of omega fatty acids for a healthy immune system.
Your poodle needs a chock full of vegetables like kale, spinach, carrots, beets, and tomatoes along with fruits like blueberries, cranberries, and apples. All of these offer plenty of antioxidants that your pet needs to fight off diseases and strengthen immunity.
Whole grains, especially in the form of brown rice and oatmeal, are excellent sources of fiber. They are easily digested and facilitate a healthy gut flora for your poodle.
What Ingredients Should You Avoid When Buying Dog Food for Toy Poodles?
When it comes to choosing dog food for toy poodles, there are many ingredients you will have to watch out for. Here's a list of ingredients that you should avoid:
Any kind of artificial ingredients like preservatives, coloring, or additives is harmful to small dog breeds. Look for food coloring, MSG, and chemical preservatives in dog food that can very likely lead to an upset stomach or cancer.
Meat by-products, whether they come from chicken, lamb, or fish, are harmful to your toy poodle's health. Firstly, they are not needed for dog food. Things like hooves, bones, skin, spleens, and intestines can wreck your poodle's gut flora. They can also lead to diarrhea.
Therefore, it's best to scan the ingredient list before buying any type of dog food. Even if you see the word "chicken by-product" on the list, it's best to ditch the brand altogether.
Another ingredient that can easily throw off the delicate digestive system of toy poodles is grains. Whole grains in minimal amounts and the form of oatmeal and brown rice are fine. However, if the ingredient list is stuffed with whole grains with high levels of gluten and wheat, you might want to be careful. They can easily induce bloating, allergies, and flatulence.
What Are the Signs that Your Toy Poodle Likes or Dislikes the Food?
If your dog likes the food, they are likely to:
Show interest during mealtime and salivate a lot
Eat quickly and anticipate the next mealtime
However, if your dog doesn't like the food, they are likely to:
Show reluctance during mealtime
Push the bowl containing the dog food away
Show signs of irritability and seek a place of isolation
Are Toy Poodles Fussy or Picky Eaters?
Yes, even though they're small, toy poodles are quite fussy eaters. If there's an ingredient in the dog food that's causing stomach discomfort or isn't palatable, they might not enjoy the mealtime at all. There are many reasons for it.
Your poodle might have dental problems as small breeds are likely to have unhealthy gums because the food frequently gets stuck. In this case, they might face pain in the gums and not eat at all.
If the bowl is too high or too low, your poodle might not eat as enthusiastically.
If your poodle is around dogs he doesn't know; he might take time easing into the new environment. During this time, he might not eat dog food as frequently.
If your poodle has been vaccinated, he might experience a loss of appetite. It might recover in a few days, but you still need to be patient.
Buying the Best Dog Food for Toy Poodles
Feeding and looking after toy poodles is a fun and enjoyable experience. Use the guide above to choose the best dog food for toy poodles and make mealtime a fun occasion for your pup.
You can use the tips above to identify whether your pet is facing digestive issues or other problems, which might have disrupted their appetite. All in all, feeding your toy poodle a holistic and well-balanced diet is the only way to keep them healthy and fit!
References
Carter, John. "Is Poodle a Picky Eater? 7 Tips For Poodle Owners." Bubbly Pet, 2 Mar. 2020, www.bubblypet.com/is-poodle-a-picky-eater-7-tips-for-poodle-owners/#5_Reasons_Why_Poodles_Are_Picky_Eaters.
Elliott, Pippa. "How to Care for a Toy Poodle." WikiHow, WikiHow, 29 Mar. 2019, www.wikihow.com/Care-for-a-Toy-Poodle#:~:text=The%20general%20rule%20is%204,dog%202%20meals%20per%20day.
Loueee, et al. "Eukanuba Small Bites Adult Chicken Formula Dry Dog Food, 33-Lb Bag." Chewy.com, 29 Apr. 2020, www.chewy.com/eukanuba-small-bites-adult-chicken/dp/118410.
"What's the Best Dog Food for Poodles?" Daily Dog Stuff, 29 May 2020, www.dailydogstuff.com/whats-the-best-dog-food-for-poodles/.