Firstly, we are quite used to dogs wearing collars. But a collar applies a lot of pressure on the dog's neck when it pulls forward. Here we are going to provide the best small dog harnesses
And let's be honest, almost every pup out there pulls quite a bit. Even if your pet usually doesn't try to reach the desired spot as quickly as possible, you can rarely predict the moment when your puppy suddenly dashes forward.
Meanwhile, there are many situations when a collar can choke or harm your pup, especially when we're talking about smaller breeds. But the most dangerous thing about collars is the pressure they apply.
Moreover, the neck of an animal is a very sensitive area where a lot of nerves are located. And when those nerves are irritated continuously by pressure, the dog develops a lot of health and behavioral issues.
Besides, that's why it's better to use harnesses that distribute the pressure evenly.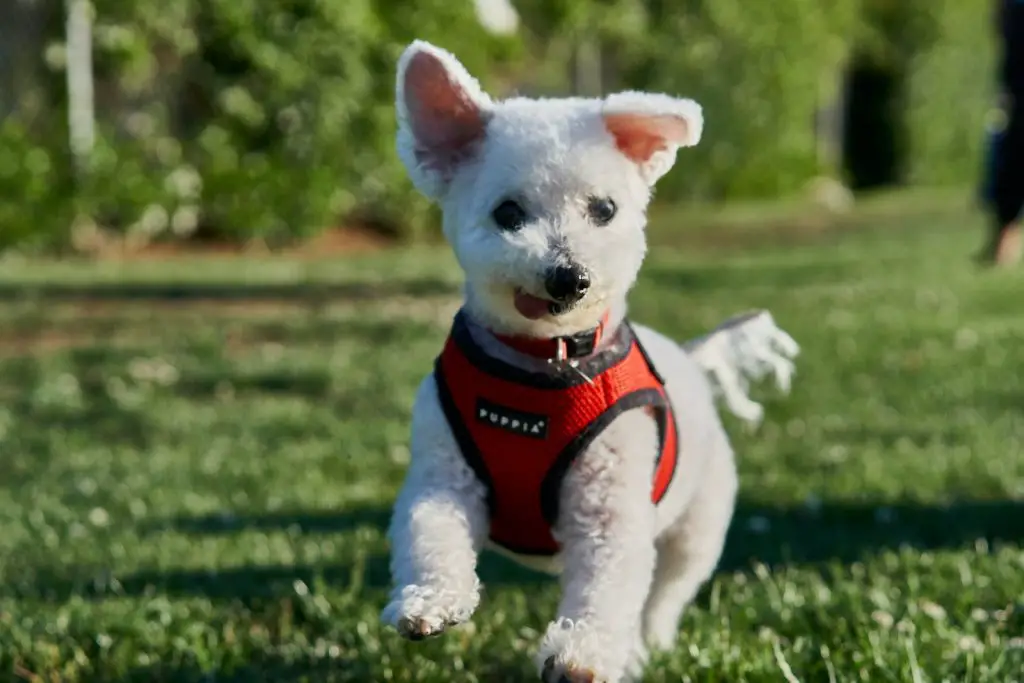 The Best Small Dog Harness
Sale
PROS:
Made of breathable polyester
Padded with soft cushions
Adjustable belly strap
Many colors
Many sizes
CONS:
Only one strap is adjustable
Only one leash ring
Some dogs can escape this harness
First of all, Dog Harnesses Puppia is a classic harness for small dogs that comes in a wide variety of different colors. Therefore, you can choose the option that will fit your taste.
We consider Puppia to be the best dog harness simply because it checks all the boxes. For instance, it comes in many sizes, but we will focus on smaller ones.
The extra small size will be great for Chihuahuas, Brussels Griffons, and Pomeranians. Besides, the small size will fit Yorkshire Terriers and Toy Fox Terriers.
In addition, the strap that goes around the rib cage is adjustable, so you can make it a bit tighter or looser if you need it. However, don't fasten it too tight because then it will be hard for your dog to breathe.
Further, Puppia is made of breathable polyester that is very lightweight and dries quickly. Also, you can wash this small dog harness in the washing machine, although the manufacturer advises hand washing and air drying.
Similarly, all the pieces except for the belly strap are padded with soft cushions to keep your pet comfortable. Likewise, the buckles are made of plastic, but they're durable enough.
And the ring for the leash is resistant to moisture and quite durable. Unfortunately, there is no leash ring on the chest.
Small Dog Harnesses With a Handle:
Best Small Harness With a Handle: CuddlyPet
CUDDLY PET, Dog Harness No Pull, Walking Pet Harness with 2 Metal Rings and Handle Reflective Breathable Oxford Soft Vest Easy Control Front Clip Harness for Small Medium Large Dogs (Small, RED)
????【No Pull】 You can have a better control of your dog by attaching the leash to the clip. Every time your dog pulls, he/she got turned around instead of continuing forward and pulling on the leash. Soon your dog will learn not to pull.
????【Choke Free】 Pulling pressure is evenly distributed to the body to prevent Pulling and Choking. Our dog harness is going to better distribute the pressure, so it doesn't cut into your dog's skin.
????【Safety Design】 Our dog harness include nylon webbing with reflective material for good visibility at night. With cars rushing by, danger is everywhere. However, if your pup is wearing a reflective harness, they will more likely be seen by oncoming traffic and less likely to be injure.
????【Comfortable, Stylish and Durable】Comfortable lightweight mesh lining with soft padding in chest and belly. Adjustable straps allow a custom fit for your dog. Ergonomic design ensures ease of use putting on and taking off Harness.
????【Measure Your Dog】 Please measure your dog carefully before selecting the size. Refer to the 6th image for the detailed size chart. Any quality-related issues to our dog harness, please feel free to contact us for a REPLACEMENT or FULL REFUND, we are always here for you.
PROS:
Padded with soft cushions
Two leash rings
Easy to put on and take off
Hard to escape
Two adjustable straps
CONS:
Not suitable for tiny breeds
Comes only in one small size
Not the best design in terms of safety
Firstly, CuddlyPet no-pull small harness in a small size will fit Yorkshire Terriers, Jack Russes, Shi Tzus, and breeds of similar sizes. Secondly, CuddlyPet doesn't apply pressure on the dog's neck even if it pulls.
Therefore, your pup is safe from injuries if it dashes forward. Also, the handles will also assist you in teaching your dog some patience.
But remember not to use it for carrying your pet around because the harness might injure the animal. In other words, the handles are only suitable for situations when you need to lift the dog just for a second.
For example, to help it get out of the car safely. But mostly the handle should be used for training. Additionally, thanks to the chest leash ring, you can teach your puppy how to walk properly without pulling.
And then you can switch to the back ring. Moreover, this small harness is padded with soft cushions to make your dog feel comfortable. Also, it's very easy to put on – slide it over the pup's head and close the buckles.
By the way, the buckles are lockable to prevent your pet from escaping the harness. Besides, you can adjust CuddlyPet fastening the chest and belly straps for a better fit.
Harness with a handle for small dogs: My Busy Dog
My Busy Dog Harness Vest | No Pull, Easy On/Off, Front/Back Metal Leash Attachments, Handle, Reflective, Secure Fit | Perfect for Small Medium Large Dogs | Size Chart in Pictures (X-Small, Red)
HOW WE'RE DIFFERENT: Unlike other harnesses that can dig into your dog's skin or have to be constantly readjusted, our harnesses are designed for comfort and convenience. Soft breathable mesh fabric ensures your dog is comfortable. We replaced the plastic sizing adjusters with metal clips to ensure the harness STAYS IN PLACE – no more readjusting during walks! We added an EXTRA buckle to make it easy to take the harness on and off – keeping your sizing in place!
HASSLE-FREE HARNESS: Easily slip over your dog's head and secure at both sides with the buckles. No more pulling your dog's paws through small holes to create a snug fit each time! Once you fit your pup with the adjustable straps they are secured by metal adjusters to prevent the straps from sliding for all of your future runs or hikes through the woods.
EXTRA FRONT LEASH ATTACHMENT: In addition to the standard back attachment point, our harness has a no pull front aluminum leash attachment (not a D ring or fabric that can pull apart like competitors). Train your dog to STOP PULLING and make walks enjoyable. Dogs that pull can hurt their necks, backs, or choke with standard collars – a vest harness is designed to distribute your dog's weight and prevent injuries. We also have a FREE eBook to help with training just let us know where to send it.
PREMIUM QUALITY MATERIALS: The durable nylon webbing is reinforced throughout and the interior lining is made with a soft mesh padding to leave your four legged friend comfortable and secure. The 3M reflective material provides extra safety and visibility at night. A sturdy handle is located on top of your dog's back to help hold, guide or lift your dog making it useful for service, police, and therapy dogs.
TESTED BY MY FAMILY. PERFECT FOR YOURS. As a small, family run, USA business your happiness is our top priority. All of our products are built so that your dog can join you everywhere – just like our two dogs do. Each purchase helps a dog in need with our "Paw for Paw" program. We look forward to seeing you in our #MyBusyDog gear!
PROS:
Suitable for large-chested dogs
Two leash rings
Adjustable straps
Easy to put on and take off
Comfortable and soft
CONS:
Might be too large for small dogs
Comes only in one color
Only two sizes to choose from
First of all, this is a lightweight and breathable harness for small but wide-chested dogs. Secondly, it will fit larger breeds like Pugs, French Bulldogs – bulldog dog harness review, or Boston Terriers.
Meanwhile, you can adjust the straps if needed. Moreover, My Busy Dog comes with a handle that you can grab your pet to keep it in place. In addition, this handle is useful during the training or in some situations when you need your pup to be still.
However, don't practice picking up your dog by this handle – this can injure your pet considering the joint and breath issues Pugs and other brachycephalic wide-chested breeds have.
Further, if your pup is pulling, you can use the chest leash ring to train it to walk correctly. And the back ring will be perfect for casual walks.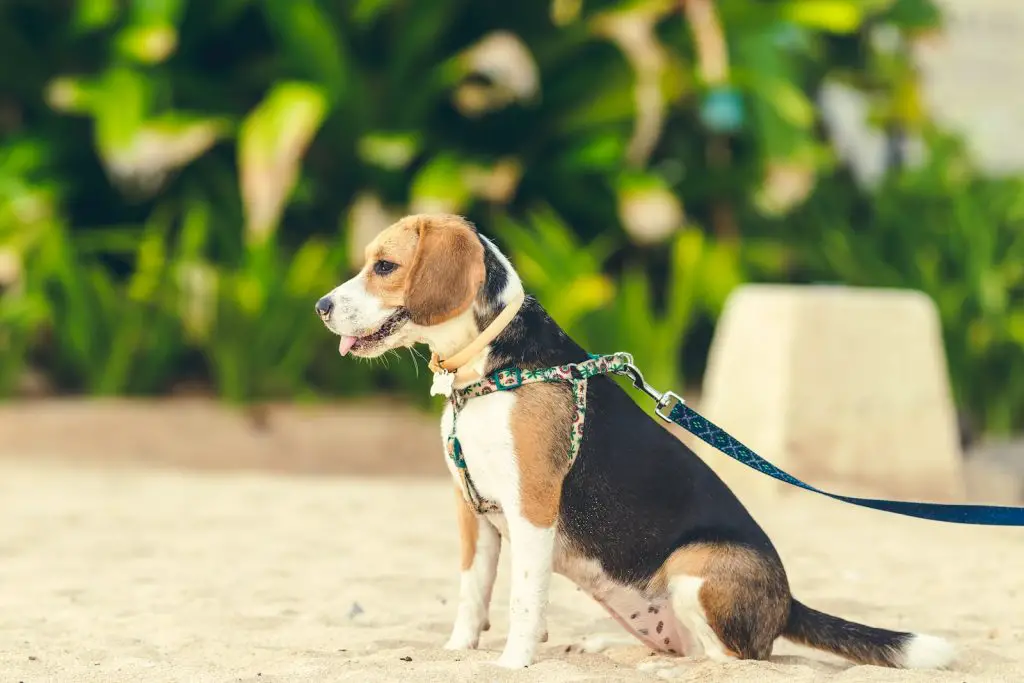 Small Handle Dog Harness: ICEFANG Tactical
ICEFANG Tactical Dog Patch Harness Vest,Hook and Loop Panel, No Pulling Front Clip Leash Attachment (XS (18″-23″ Girth), RG-Plastic Buckle)
[Size & Care instruction] 1:Please choose right size base on ICEFANG size chart , Medium(Neck:16″-22″ ; Chest:25″-31″ );Large(Neck:18″-24″ ; Chest:28″-35″);X-Large(Neck:20″-28″ ; Chest:32″-39″); 2:This Harness is not to be used with a tie out;3:Burn and solidified the end of strap if necessary ,Make Sure the end of strap is not fraying; 4: Washing: Hand-wash with detergent, rinse with clean water, allow to air dry.
[Updated Feature ] : We have Removed the quick-release plastic buckle on neck opening ,Replaced by the Metal Clip; Eliminate the risk of broken when dog pulling,Offer our customer a sturdy and lightweighting harness
[Design to Attach Dog Patch ]:One Hook and Loop Panel ( X-Small: 2″x4″ ; Small:2″x4.5″ ; Medium:2″ x 6″ ;Large:2″ x 7.5″ ; X-Large:2″ x 7.5″ ) Sewn onto Both side; One Long Strip of loop panel Sewn Along the Back of Harness with different width on each size (X-Small / Small / Medium :2″ ; Large:3″ ; X-Large :4″ .);You Can Attach Many Patch to Identify Your Dog
[2 X LEASH CLIP ]: Connect leash to No pull front clip,redirect the dog forward motion and make dog's leg off the ground ,Allow you to Control the puller with few effort and training your dog to walk beside you; Back Leash Clip for well-trained dog normal Walking;Durable Handle is Sewn Tough and Large Enough to Grab the Harness Quickly and Easily When Walking in Crowd ,Also Lift Your Dog When Getting in/out of the Car
[EASY PUT ON/OFF]: Slide the Neck Opening Over your dog's head ,position the harness on dog's back properly,MAKE SURE The Harness DO NOT CUT Dog's neck ,DO NOT RUB Dog's Armpit Foreleg ,then lock the Chest Strap by quick release buckle ,it is very Easy to Put on or take off and Adjust by Right-hand or Left-hand
PROS:
Easy to put on and take off
Highly adjustable
Two leash clips
Comes in a wide variety of colors
Loop and hoop panels
CONS:
Suitable only for several small breeds
Too big for tiny dogs
Buckles are a bit bulky
First, if you want your small furry friend to feel like a real working dog, this tactical dog harness is a good option. Moreover, the sizing is a bit confusing.
However, following the measurements, we can say that Icefang in the Extra Small size will fit large-chested dogs like Frenchies, Pugs, or other similar breeds.
Meanwhile, it can also be suitable for Jack Russels and other breeds of the same size – you can adjust both rib cage and shoulder pieces to fit your dog.
In addition, the straps can be fastened on both the left and right sides. However, there is no smaller option for little dogs. Further, the Icefang features two leash clips – on the chest and the back.
So you can switch to the chest one when the pup begins pulling too hard. Also, there are hook and loop panels you can use to customize this small handle dog harness.
Small Leather dog Harnesses
Best Small Leather Harness: Beirui
Beirui Genuine Leather Dog Harness – No Escape Harnesses for Small Dogs Pet Training Walking – Easy Adjustable Pug Frenchie Harness (Chest for 13-19″, Brown)
▶Fits Great for Small Dogs – 【Size S:Chest 13-19″, Neck 12-20″】.Please MEASURE YOUR DOG'S CHEST and NECK carefully before order.If any confusion of the measurements are between two sizes, please choose the LARGER size
▶Strong and Durable Dog Training Harness with 3 Adjustable Straps, Relaxed Movement of Muscles
▶Easy on and off, Two Chormed Heavy duty D-Rings for Leash Attaching, Flexible and Efficient
▶MATCHING ITEMS – High quality leather collars and leashes, dog chain leashes are available and have nice promotions when you buy them together
▶Enjoy Shopping at Beirui – If you have any quality problems within 30 days, you can contact us at any time for after-sales service
PROS:
Made of genuine leather
Highly adjustable
Rather durable
Very good-looking
Perfect for small dogs
CONS:
Comes only in one color
No chest leash ring
No quick snap buckles
First, the Beirui is a very attractive small harness made of soft genuine leather. Second, it doesn't come in a wide variety of sizes, but it is very adjustable.
Meanwhile, the smaller size can be adjusted from 10 inches to 15.5 inches in the neck, and from 15.5 inches to 18 inches in the chest. Also, the neck strap is adjustable both on the right and left sides for a better result.
Likewise, it means that Beirui will fit Shih Tzus, Papillons, Toy Poodles, Yorkshire Terriers, and breeds of similar sizes. Similarly, make sure to measure your pet properly since there is only one small option available.
However, there is no ring for the leash on the chest, but there are two rings on the back so that you can attach the lead quickly.
Since there are no quick snap buckles, it can be somewhat tricky to put on this small leather harness, especially if your dog is active and can't standstill. But with more calm pups, it shouldn't be an issue to close and open buckles.
Besides, if Beirui feels a bit too stiff once you get it, simply work the leather with your hands to soften it. Also, make sure you dry this small harness when it gets wet.
Small Leather Pet Harness: Beirui
PROS:
Made of real leather
Highly adjustable
Doesn't snag the fur
Great for long-coated dogs
Fits most small breeds
CONS:
No chest leash ring
Comes only in one color
Can be tricky to put on
First of all, Beirui is another small leather pet harness. Secondly, it's made of real leather that is very soft and durable.
Likewise, just like any other leather item, you can work this small harness with your hands to soften it even more so that your dog feels comfortable.
Moreover, it is very adjustable – the neckpiece has two adjusting points, and you can fasten the belly strap as well. Similarly, the small size is suitable for dogs with a 13-18 inches neck and 13-20 inches chest.
Therefore, this leather pet harness will fit Mini Schnauzers, Bichons, Miniature Pinschers, and breeds of similar measurements.
Besides, this Beirui pet harness is excellent for long-coated breeds as it doesn't snag the fur. Also, dogs don't get overheated wearing this accessory since there are no heavy and wide parts.
And over time, this leather harness softens to fit your pup's body perfectly.
Leather Dog Harness for Small Dogs: Dogs My Love
PROS:
Made of quality leather
Comes in different colors
Suitable for small breeds
Pretty and cheeky
Soft and comfortable
CONS:
Only one strap is adjustable
No chest leash ring
Can be tricky to pick the right fit
Dogs My Love's adorable leather dog harness is perfect for small and tiny dogs. The Extra Small size should fit Chihuahuas, Toy Poodles, and other breeds of similar measurements.
Meanwhile, the small size will be great for Bichons, Pomeranians, Malteses, and so on. Note that only the chest strap is adjustable.
So make sure you measure your dog correctly to get a suitable fit. Since this accessory is made of genuine leather, it will soften over time to hug your pet's body comfortably.
Similarly, you can also work the material with your hands to quickly make it more tender. Likewise, this leather dog harness comes in four different colors for you to choose what you like more.
Dogs My Love is decorated with small leather flowers that fit the color palette you pick. However, there is only one leash ring on the back, but it will be difficult for your pup to pull because of the design of this harness.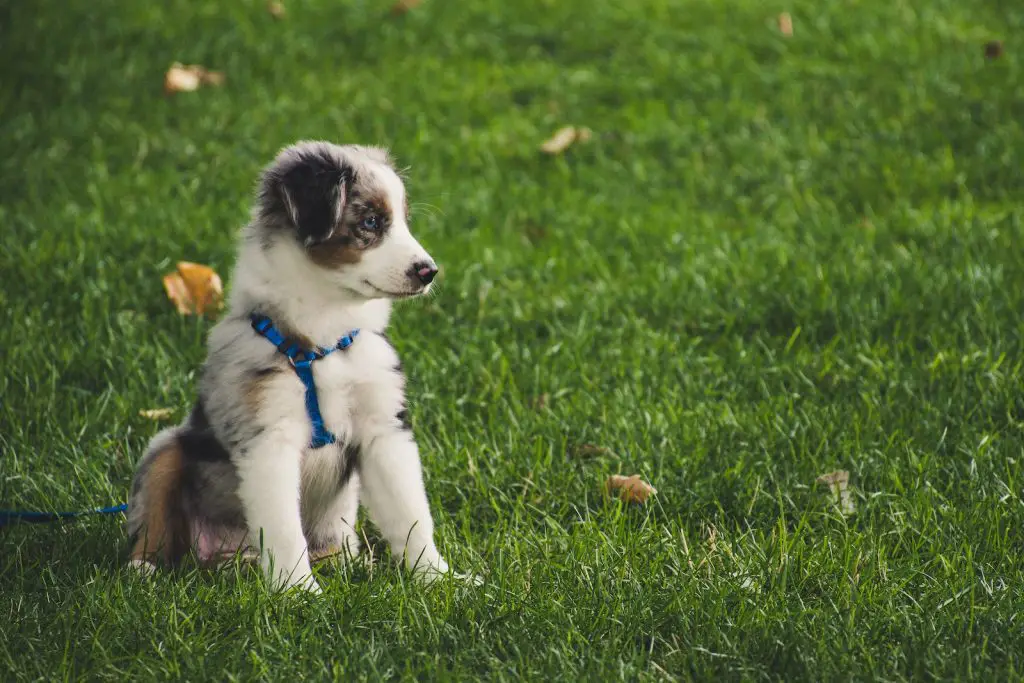 Small Tactical Dog Harnesses
Best Small Tactical Harness: OneTigris
OneTigris Service Dog Vest Harness Saddle Bag Backpack Pouch, Emotional Support, Service Dog in Training,EDC Horizontal MOLLE Pouch for Tool Treat Med(2 Pack, Coyote Brown)
Sturdy Construct Nylon Bag: 500D Nylon of extra durability and dirt/water/abrasion resistance
Horizontal K9 Dog Treat Tote: Ideal for use as a waist training pouch to hold treats for canine dog and cat; Outdoor hiking add-on pouch with MOLLE compatible for fixing at the waist or your dog's MOLLE vest/harness
Functional Compartment: Spacious main compartment for holding toy, treats, small dog water bottle with 2 mesh pockets for holding pet owner's walking dog essentials; Exterior x-bungee guarded horizontal pocket for holding linear items
Unique Vintage Design: 1TG classic color combination of tactical black with coyote brown for a fashionable appearance; one pack for attach to belt as a training kit, two pack for attach to molle dog/cat vest to complete your pup's outfit as a K9 puppy backpack
Recommend to use with OneTigris BEAST MOJO Tactical Small Dog Harness; Package Comes with the OneTigris logo patch for free; Dimensions: 4.5″(L)*7″(W)"1.5″(D)
PROS:
Comes in several colors
MOLLE straps
Highly adjustable
Easy to put on and take off
Doesn't snag the fur
CONS:
Only one size available
Only one leash ring
Hard to guess if it will fit
First, even little dogs want to be a part of our outdoor activities like hiking, for example. And even though they can get tired very quickly, it doesn't mean they don't deserve a cool tactical harness.
Meanwhile, OneTigris comes in one size that is suitable for Bichons, Jack Russels, and other breeds with similar measurements.
Also, due to the design, this small harness will fit large-chested breeds like French Bulldogs, Bulldogs, and Pugs. To make OneTigris suit your pup better, you can adjust all three straps – one on the shoulders and two on the belly.
Likewise, both belly straps come with buckles, so it is effortless to put on and take off this small tactical dog harness. Similarly, the front strap is padded with fleece so that it doesn't snug the fur.
Additionally, there are MOLLE straps you can use to attach patches or equipment like bowls, bags, and bottles.  Of course, remember that your small dog can't carry much weight.
Besides, there is a handle you can use to help your pup get in and out of the car, for instance. There is only one leash ring on the back, but due to the design, it will be hard for your puppy to pull.
Small Tactical Dog Vest
Tactical Service Dog Vest Harness, Outdoor Training Military K9 Patrol Dog Vest with Molle & Loop Panels Adjustable Tactical Dog Vest Harnesses with Handle (XS, Black)
????Durable Material & Rubber Soft Padded: Made with our high quality 1000D nylon and well padded in all pressure areas for a comfortable fit. Exclusive rubber handle for safety and comfortable grab. Use to quick control dog in emergency situation. *PACKAGE INCLUDE* 1× dog harness, 2 × pacthes
????4 Quick Release Buckles:easy adjustable dog harness for easy put on and off while providing extra security; With one top handle for your dog's lead & control and one V-ring on the front for dog leash attachment
????Breathable Mesh & MOLLE System:Comfortable mesh make your dog skin so nice and Each side features two MOLLE straps as well as hoop & loop strips panel to easily attach molle pouches or ID panels
????Hook and Loop Panels for Attach Morale Patch: One full length strip of 9″long 2″ wide heavy duty loop panel on the top for ID badges; One 3.5″long 2″ wide loop panel on the neck strap
????5 Size and 2 colors available, please measure your dog to make sure the Vest fits before placing the order. This tactical dog vest harness is made of high grade nylon material and soft pad inside, definitely a durable and comfortable gear for your friend. The hard nylon could prevent dogs from being hurt, and the inner mesh lining keep it breathable and avoid back sliding
PROS:
Highly adjustable
Fits most small dogs
MOLLE panels
Waterproof
Breathable and comfy
CONS:
No chest ring
Not many colors to pick from
Might be a bit bulky
Tactical Service Dog Vest is a long fit tactical dog vest that will be useful if you take your pup along for some outdoor activity. Moreover, it is waterproof, so if your pet gets wet, the harness will stay dry.
Thus, it will keep your dog comfy and warm, preventing any possible diseases and skin irritations. However, the insides of Hanshengday are padded with soft, breathable mesh that will prevent overheating.
In addition, if you have a little breed, you should opt for the Extra Small size. Further, it will fit Yorkies, Pomeranians, Bichons, and even Jack Russels and breeds of similar measurements.
Likewise, all straps are adjustable, so you can fasten them to fit your pup even better. Additionally, there are Velcro panels you can use to attach bags, bowls, and bottles.
Besides, you can place informative or fun badges and patches on these hook and loop straps.
Small Dog Harness/Vest: Voopet
Sale
voopet Service Dog Harness,Emotional Support Pet Vest Harness,Reflective Breathable and Adjustable No-Pull ESA Dog Harness for Small Medium Large Dogs (with 4 PCS Removeable Tags) X-Small (Pack of 1)
????NO PULL & CHOKE FREE SERVICE DOG VEST: XS size dog harness recommended weight range: 8.8-15.4 lbs. Distribute the traction pressure of the service dog vest evenly over the body to prevent choking. All-weather breathable Oxford soft mesh vest for maximum comfort and protection for your service and working dogs.
????SAFETY HARNESS REFLECTIVE DESIGN: Reflective identification on the esa working dog vest tough durable nylon cloth gives visibility in low light and soft padding provides a comfortable fit, the dog reflective vest ensures the safety of your dog at night.
????Easy TO ADJUST SERVICE ANIMAL VEST: This xs service dog vest has adjustable dog collar strap and chest slide strap can be custom sized for your dog, easily adaptable to a variety of puppies small dogs. Perfect for daily walking, running, jogging, hiking, training, working outdoor fun time.
????CONVENIENT TO WEAR DOG SERVICE VEST: Emotional support dog vest made of oxford fabric, scratch-resistant, abrasion resistant, durable, lightweight and soft. Simple switch design makes it easy to put on and take off. The included service dog patch is durable and removable at will. Depending on your needs the dog work harness can be available in a variety of models such as therapy dog vest, in training dog harness, emotional support dog vest, calming harness.
????100% SATISFIED: We are committed to providing customer high quality products and the best shopping experiences. If you meet any problem or dissatisfied in any way, just send email to us and we will provide the best solution, all problems will be solved within 24 hours.
PROS:
Suitable for service dogs
Fits most small breeds
Made of durable material
Padded with cushions
Removable patch
CONS:
Might be a bit heavy
Can be tricky to fit properly
No chest leash ring
First of all, emotional support pups are also considered to be service dogs. So if your little furry friend is your emotional support dog, you can get it this small vest to let everyone know that this pooch is working right now.
Meanwhile, the extra small size will fit Pomeranians, Malteses, and Yorkies who are on the bigger side. And if you have a Jack Russel or a Fox Terrier, opt for the small size.
Similarly, you can adjust the length and width of this small dog harness to make it suit your pup even better. Also, Voopet is made of durable Oxford fabric and padded with soft cushions to make your pet feel comfortable.
Likewise, there is a handle that is useful if you need to keep your pup close. In addition, if you like the design of this small vest, but your pooch is not a service dog, you can simply take off the "Emotional support" velcro patch.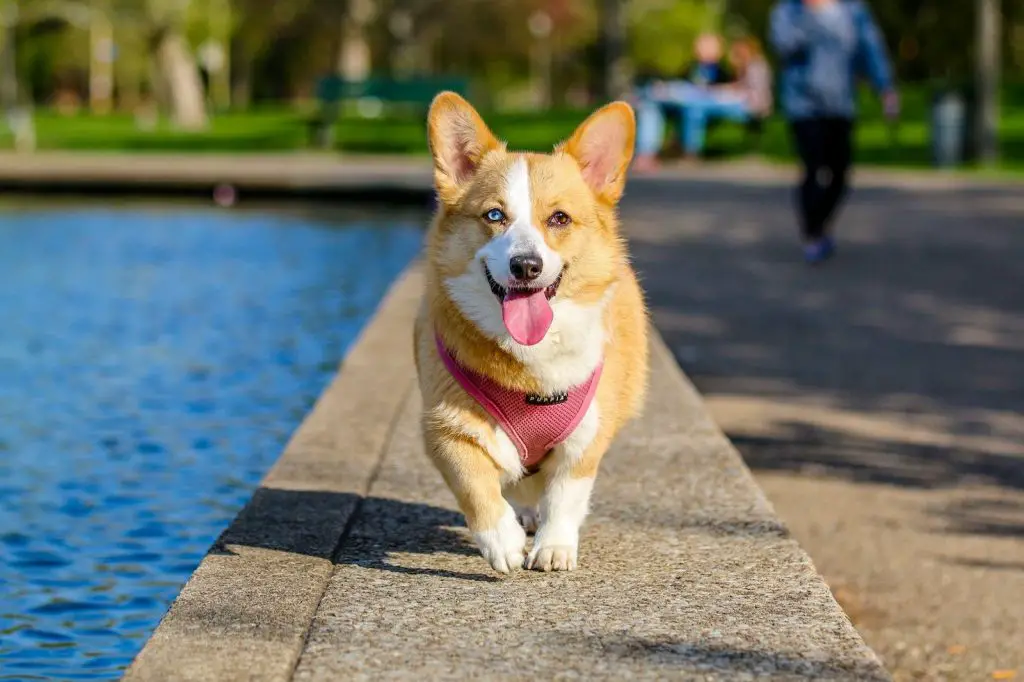 How to put a harness on a small dog
Buckle-on harnesses are very easy to put on. You need to slide the accessory over your pet's head and then close the buckles. Maybe you will find it easier to hold your small dog in one hand and put the harness on with another – it's up to you.
There is another type that's called a step-in harness. It's way trickier to put on, but we don't have any of those on our list. We've picked out only the options that are easy to use.
Important Features To Consider
Padding
Soft cushions will make your dog feel more comfortable in the harness. They will keep your pup safe from injuries and reduce the pressure if your pet tends to pull a lot.
However, leather harnesses usually come without padding because the material is soft enough.
Handles
A handle can be useful during training in some situations. For example, when you need to help your dog to get out and in the car. But avoid carrying your pup around holding it by the handle. The pressure can cause injuries.
Complementing leash
Sometimes a harness comes with a short complementing lead. It is usually quite short and not suitable for everyday walks. You can use it for photos or other occasions where you need to keep your pet close to yourself.
Step-in vs. buckle-on
Step-in harnesses are a bit tricky to put on. The dog literally needs to step into the straps, and then you can close the vest on the pup's back.
Buckle-on models are simpler to use. Just slide such harness over your dog's head and close the buckles.
Measurements
Make sure you measure your dog correctly to choose the right size. Measure the neck in the widest part that is closer to the shoulders. Also, measure the chest in the widest part.
Back clip harness vs. front clip. vs. Side Clip
The back leash clip is the best for casual walks. The front clip is useful when you want to train your dog not to pull the leash. And the side clip is great for teaching your pup to heel.
Why it's better to buy a dog harness online?
It's not easy to find a suitable harness for a small dog. Sizings are often very confusing, and not every land-based shop always has a wide choice of models.
However, on the internet, you have a virtually endless pool of options. You won't be able to touch the material, but you can read customer testimonials.
Also, you have our reviews. And if you struggle to choose the correct option, simply contact the DogPages equipment expert that will help you to pick the suitable harness for your pet.